Sardinia is a beautiful Italian island in the Mediterranean sea. It's a great holiday destination, with incredible beaches, interesting history, and of course delicious food (think pizza, pasta, gelato, and more).
Sardinia is a perfect place for a road trip, check out this detailed one week Sardinia itinerary below for inspiration!
One week Sardinia itinerary
Disclosure: Some links in this post are affiliate links. If you make a purchase through one of these links, I may earn a small commission (at no extra cost to you!). I'm very grateful when you use my links to make a purchase:-).
A week in Sardinia: map
You can find our Sardinia one-week itinerary on the map below, including the highlights and accommodations we stayed at.
Click here for the interactive map.
One week in Sardinia itinerary
Day 1: Explore Alghero and take a cooking class.
Day 2: Go for a short drive north and swim in the turquoise waters around Spiaggia della Pelosa.
Day 3: Take a boat trip around the La Maddalena Archipelago and admire the yachts at Porto Cervo.
Day 4: hike Tiscali mountain.
Day 5: visit the ancient nurarghe Losa and relax at Spiaggia di Is Arutas.
Day 6: explore Oristano and wander the ruins of Tharros.
Day 7: stroll around the cobblestoned streets in colorful Bosa and return to Alghero.
What is the best time of year to go to Sardinia
The best time to visit Sardinia is April – June, and September – October. During these months the temperatures are between a comfortable 18°C and 26°C.
And while April is too cold to swim, the abundance of beautiful wildflowers more than makes up for it!
July and August are very hot and also the busiest months on the island, with high accommodation prices and crowded beaches.
September is when we visited the island of Sardinia, we had beautiful weather and no rain. October usually sees a bit more rainy days, however, the beaches are (almost) empty and there are several festivals during this month.
Winter in Sardinia is moderate with temperatures usually between 11-14 °C. If you don't mind colder weather, this can be a good time to visit. There will be very few tourists and there are good bargains to be found for (fancy) accommodation.
That being said, there are parts of Sardinia that get the occasional snowfall (such as the mountains of Gennargentu) so do your research if you plan to visit Sardinia in winter.
Plan your trip like a pro with these tools:
✈️ Find the best flight deals on Kiwi.com.
🚗 Get the best car rental deal for your road trip on Rentalcars.com.
🛏️ Find your dream accommodation on Booking.com or Agoda.
😎 Book the best tours via Get Your Guide, Viator or Klook.
📖 Plan your journey with the Lonely Planet.
🗺️ Travel safely and get reliable travel insurance from Safety Wing.
How to get to Sardinia
The easiest way to get to Sardinia is by plane as there are daily direct flights from lots of cities in Europe. Sardinia's three main airports are:
Alghero Airport
Cagliari Airport
Olbia Airport
It takes around 3 hours to travel from Alghero or Olbia to Cagliari. Therefore, it's worthwhile choosing your flights carefully to maximize your time in Sardinia. For example, you could fly into Alghero Airport and depart from Cagliari.
Flight prices are dependent on your travel dates. But you can generally expect tickets to be more expensive during summer and cheaper in the off-peak season.
Check the best ticket deals on Kiwi.com
How to get around Sardinia
Sardinia is a large island and public transportation is very limited. Getting around by bus is a time-consuming and tedious process, which is why I highly recommend renting a car to explore the island.
We also rented a car for our trip to Sardinia and it's the best way to explore the island!
Having your own wheels gives you the freedom to explore at your own pace and to visit all the places in Sardinia you want to see.
Keep in mind that the roads on Sardinia aren't always in the best condition, with lots of twists and turns. That's why we only averaged around 50 kilometers a day.
Not to say you can't cover more ground, but there are lots of interesting sights in Sardinia and you'll also need plenty of time to admire the splendid views along the way!
I especially loved the coastal road from Bosa to Alghero, which offered stunning views of the Capo Caccia. Be sure to include this road in your Sardinia trip itinerary.
Driving on Sardinia
Let's get one thing straight: traffic regulations don't exist in Sardinia. Well, at least they seem to be more of a suggestion than actual rules.
The local residents raced over the winding roads, while we were keeping the recommended speed, meaning we created more than one traffic jam behind our car.
How much does it cost to rent a car in Sardinia?
Renting a car in Sardinia is surprisingly affordable! We rented ours via Rentalcars and paid €215 for a week: €175 for the rental fee and €40 for insurance against damages. Plus, we spent €95 on fuel.
Get the best car rental deals on Rentalcars.com
Where to stay in Sardinia
We stayed at six different accommodations, you can find all of them in the table below. I booked all our accommodations online via Agoda and Booking before our trip.
Further down in the post you can read more about our personal experience with these accommodations.
Note: Prices for these Sardinia accommodation options are dependent on the time of year and how far in advance you book. Therefore, the prices mentioned above are a rough indication of the price per night to help you compare the different options. Press 'click here' under book to see the latest prices on Booking and book ahead to get the best deal.
The hotels and apartments listed in the table above are all nice accommodations that I would gladly stay in again myself.
That being said, these accommodations were pretty basic. Clean and comfortable? Absolutely! But simple, no-frills hotels.
Best resorts in Sardinia
If you're looking for more luxury, these 3 excellent resorts in Sardinia might suit you better:
Bajaloglia Resort: this 5-star resort offers the best views over Castelsardo. It's perfect for couples looking for a quiet and luxurious stay in one of the most beautiful bays or Sardinia. Click here to book.
Hotel Cala di Volpe: this luxury hotel prides itself on its beautiful interior design and impeccable service. Surrounded by a lush, green Mediterranean landscape, you'll slip into holiday mode in no time… Click here to book.
Baglioni Resort Sardinia: this secluded resort offers a private beach inside the Tavolara Marine Reserve. Views are absolutely breathtaking and the staff will go out of their way to make sure you have an unforgettable stay. Click here to book.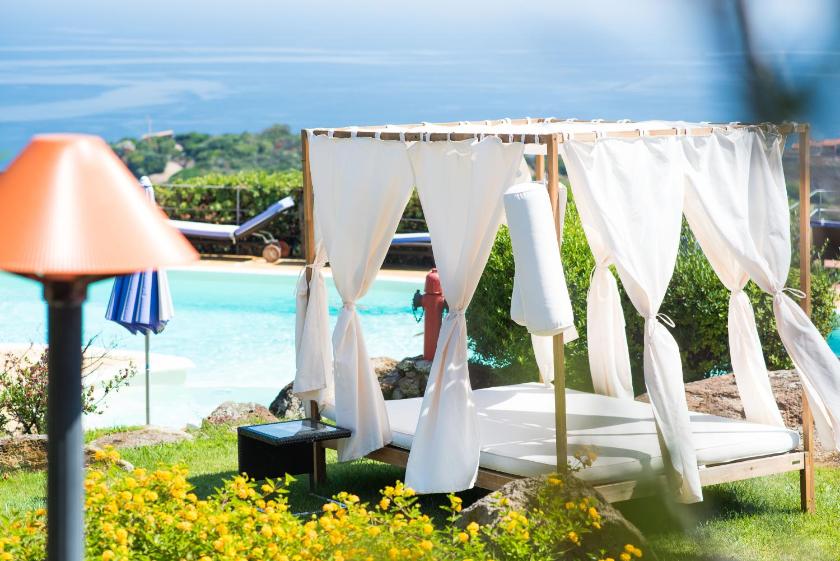 Is Sardinia expensive to visit?
No, traveling to Sardinia doesn't have to cost a fortune. In fact, my husband and I traveled to Sardinia on a fairly low budget.
In total, we spend €1000 for a week, which comes down to an average of €143 per day (for the two of us together). This includes all expenses for accommodation, transportation, food, and activities.
To give you an idea of the prices, an espresso generally costs around €1, a pizza is €5-8 and you can get a scoop of the most delicious gelato for only €2.
Also, to cut costs, we bought breakfast and lunch in a supermarket (bread, tomato, cheese, pepper, and salt, delicious!) or at little bakeries.
For dinner, we mixed up eating out and cooking ourselves. To celebrate our anniversary, we 'splurged' (restaurants in Sardinia are still cheap compared to the Netherlands) on an excellent dinner at this restaurant, which was totally worth it.
1 week in Sardinia: 10 things to do
Sardinia should be on any Italy bucket list or Italy itinerary. It's a beautiful island with a lot of history and beautiful villages.
Sardinia is the 2nd largest island in the Mediterranean Sea and a week won't be enough to explore everything it has to offer.
Most Sardinia attractions in this post are located in the north of Sardinia. However, I've added several must-visit places in South Sardinia under the 'more things to do in Sardinia' section' further down this article.
If you also want to explore the South, I recommend spending at least 2 weeks in Sardinia because there is so much to see!
1. Explore Alghero
Start your 7 days in Sardinia in Alghero, one of the larger cities on the island though still very walkable.
With its charming historic center, narrow cobblestoned streets, boutique stores, and excellent restaurants and bars it's easy to spend a day in Alghero and a great place to visit on your first day.
Alghero highlights, besides strolling around the centro storico, are the impressive Sea Walls built in the 16th century, La Piazza Civica, and of course the Cattedrale di Santa Maria, one of Alghero's landmarks.
A trip to the nearby Grotta di Nettuno, located in Capo Caccia, is one of the best things to do in Alghero, though I don't particularly recommend this tour during summer as it gets very busy.
Outside of peak season, this impressive cave with spectacular stalactites and stalactites and other rock formations is definitely worth a visit!
An excellent evening activity in Alghero is taking a cooking class. A local host will teach you how to prepare a four-course meal with typical Sardinian dishes using local produce.
After your hard work, you get to enjoy these dishes accompanied by a glass of local wine, a perfect way to end your Alghero itinerary.
Click here to book your Sardinia home cooking class!
2. Take a swim at Spiaggia della Pelosa near Stintino
On your second day in Sardinia, head to La Pelosa, one of the best beaches in Sardinia.
This Spiaggia (Italian for beach) can be found on the Stintino peninsula, in the north of the island. It's approximately a one-hour drive from Alghero.
The crystal clear water has an absolutely stunning blue color and you don't even need a snorkel to see the fish dart around in the water!
We crossed the water to a tiny island about 10 meters from the coast, which had a little beach and just a few people on it.
To get to this beach, we picked our way over the slippery rocks with a bag full of valuables, probably not the smartest thing to do without a dry bag.
Luckily we got across without falling into the water and drowning all our electronics. In any case, La Pelosa is a lovely place to spend some time.
3. Hop on a boat trip around La Maddalena Archipelago
On the next day, it's time for one of the most popular Sardinia tourist attractions: a boat trip around the Maddalena Islands.
The Maddalena Archipelago consists of seven larger islands:
La Maddalena
Caprera island
Spargi
Santo Stefano
Santa Maria
Budelli
Razzoli
Only La Maddalena, Caprera, and Santo Stefano are inhabited. The largest town is Cala Gavetta on Maddalena Island.
There are also many small uninhabited islands in the archipelago, clear water in all shades of blue and fantastic beaches such as Cala Coticcio (Caprera) and Cala Lunga (Razzoli).
One of the highlights of any boat tour around La Maddalena is Spiaggia Rosa which means pink beach. It can be found on Budelli Island and is probably one of the world's most beautiful beaches.
However, you can only admire it from afar as disembarking here is strictly forbidden. And with good reason, before these regulations were established people often took shells and sand as a souvenir, wreaking havoc on the natural environment.
Booking a Maddalena boat tour
A boat tour in the Maddalena archipelago is one of the most popular day trips in Sardinia and rightly so. It's a fantastic experience around some of the most beautiful scenery the island has to offer.
You can book a boat tour online, which I strongly recommend when traveling in the high season (July and August).
If you are traveling outside peak season there is availability on most days. There are several tour operators in the harbor, so it's usually not a problem to book on the day itself.
Most tours start around 10 am and finish around 6 pm. There are several itineraries but most tours have 3 or 4 stops on the different islands of La Maddalena.
Click here to book a Maddalena Archipelago boat tour online
Parking at Palau (departure point of the boat tour)
A little word of advice, reserve enough time to park your car! There is a real problem shortage of decent parking lots and it can be quite expensive the closer you get to the harbor.
We parked a little outside the city center, which was free and just a short walk to the harbor.
4. Wander around Porto Cervo
Porto Cervo is located in northern Sardinia in the area that's called the Costa Smeralda (the Emerald Coast). This small town is one of the most expensive resorts in the world.
We felt a bit out of place amidst the billionaires relaxing on their luxury yachts in their expensive clothing. Still, it's a good place for a morning stroll and an (expensive) cup of coffee or gelato.
5. Hike Tiscali Mountain
One of the most unique places to visit in Sardinia is the Nuragic village of Tiscali, hidden in the mountains.
It's estimated that these ruins date back to the first millennium BC. You can either visit Tiscali village independently or join this excellent full-day tour (includes transport, lunch, and a knowledgeable guide).
Getting to the village requires a two-hour hike in the beautiful Valle di Lanaittu, be sure to carry plenty of water as you'll be climbing a lot and a large part of the track is exposed.
Click here to book a hiking tour of Tiscali mountain and village.
6. Visit the ancient Nuraghe Losa
Nuraghi are a strange phenomenon and are only found in Sardinia. Basically, they are ancient fortified towers built from large rocks.
There are around 1100 spread around Sardinia in various conditions; some are in very good condition while others are almost completely destroyed.
We visited Losa (admission €5 per person), one of the largest and the most complete nuraghe in Sardinia, complete with watchtowers and a spiral staircase inside the main building.
Losa is an impressive structure and one of the best-preserved archeological sites. In my opinion, it's one of the best places to visit in Sardinia if you're interested in history.
I personally find it incredible these massive constructions were built so many years ago without any modern equipment.
7. Relax on Spiaggia di Is Arutas
Spiaggia di Is Arutas is one of the most beautiful beaches in Sardinia. The beach is made up of tiny quartz fragments, similar to grains of rice, in colors ranging from green to white and delicate pink.
This makes Spiaggia di Is Arutas a unique beach to visit and definitely one I recommend putting on your itinerary for Sardinia.
Note that during the summer months the beach can be packed so it's best to arrive early in the morning or late in the afternoon.
Bring a snorkeling mask and explore the underwater world, or go for a swim in the crystal waters.
8. Explore Oristano
While you'll be spending most time exploring the sights around Oristano, the village itself is also worth a visit.
Wander around the Centro Storico, grab a cup of espresso at one of the cafes, visit the beautiful Cattedrale di Santa Maria Assunta and snap a picture of the Statua di Eleonora D'Arborea.
When visiting during lunchtime or in the evening, there are plenty of places to eat in Oristano. Trattoria Portixedda and Blao Ristorante are some of the best restaurants and serve fresh seafood as well as typical Italian dishes.
9. Visit the ruins of Tharros
Tharros is a historic site where you can explore the ruins of a former Roman town founded in the eighth century BC.
The signage around the site is pretty good and you can read about the history of this former capital of the Judicate of Arborea.
At the site, you will find the remains of several temples, Roman baths, an amphitheater, and some other constructions.
Allow yourself an hour or two to wander the ruins of Tharros and imagine what life must have been like millennia ago…
10. Stroll around beautiful Bosa
I loved Bosa, a beautiful village situated on the west coast of Sardinia by the Temo River (the only river in Sardinia).
The houses are painted in various bright colors and the narrow streets feel almost like a labyrinth. There are little coffee and gelato bars everywhere and the overall atmosphere is really friendly.
The castle up on the hill is worth a visit, mainly for the spectacular views over the main town and the sea. We were lucky to visit on the last day of the Nostra Signora di Regnos festival.
During the festival the village looks even prettier because of all the colorful flags, palm tree leaves and little altars build for the Virgin Mary.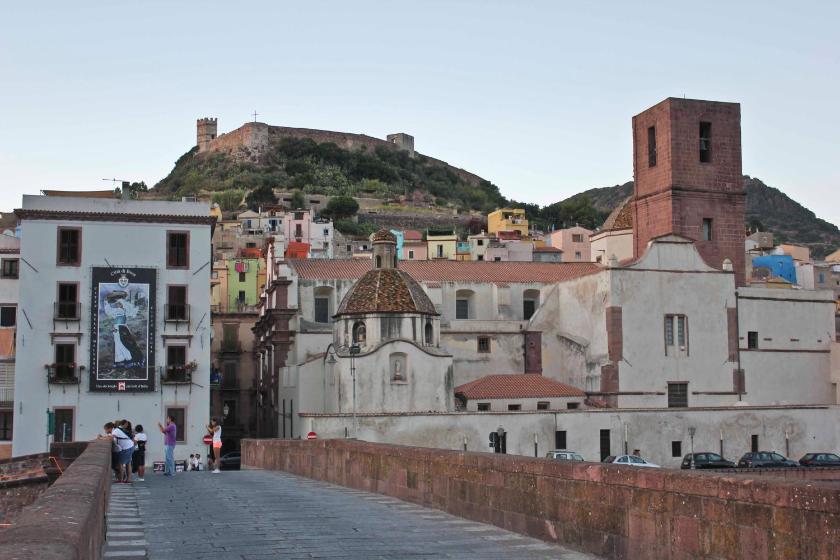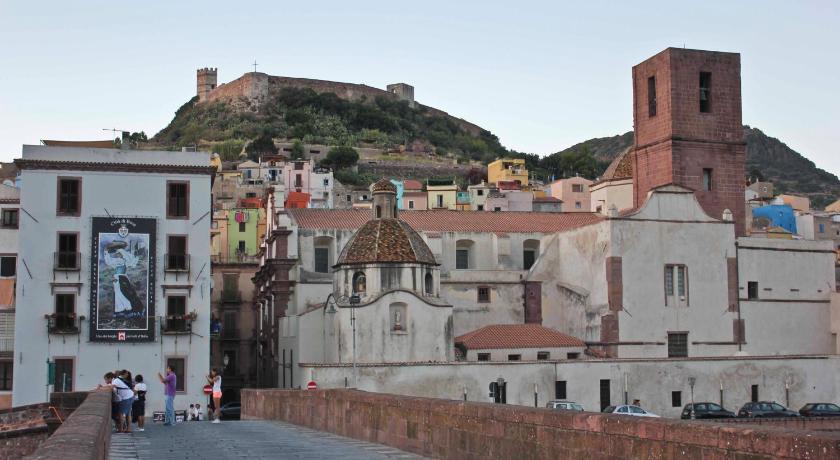 More things to do in Sardinia
If you've got more time available, consider adding these activities to your Sardinia travel itinerary as well.
Dolphin-watching and snorkeling tour
The waters around Sardinia are rich in marine life, such as dolphins and whales. Join a boat tour from Olbia and watch dolphins swim free near the boat in their natural habitat.
Enjoy snorkeling among colorful fish and explore limestone caves and cliffs.
Click here to book a dolphin-watching tour
Go scuba diving
If you love the underwater world as much as I do and got your PADI, this full-day diving trip in the Gulf of Orosei is a great option.
You'll be doing three dives, under the supervision of an experienced dive master, in the clear waters just off the coast of Cala Gonone.
Click here to book your scuba diving trip
Spend more time on the east coast of Sardinia
If you've got a few extra days in Sardinia and love white beaches, the east coast of Sardinia is perfect for you. This part of Sardinia is simply stunning, each bay more breathtaking than the previous one.
Base yourself in fancy Baglioni Resort (see picture below), explore San Teodoro village, take a boat trip to Tavolara island and relax on pretty Cala Brandinchi.
Explore Cagliari
Cagliari is the capital of Sardinia and is known for its historic center. You can easily spend a whole day exploring its cobblestoned streets and narrow alleys.
Here are some of the best places to visit in Cagliari:
Castello: this medieval town is part of Cagliari and dates back to the 13th century. It's situated on a 100-meter-tall hilltop and overlooks the rest of the city. Don't miss the Archeological Museum, Cagliari's Cathedral and the iconic Torre di San Pancrazio and Torre dell'Elefante.
Stampace: the oldest district in Cagliari where you can find the Roman Amphitheater, the lovely Botanical Gardens, and plenty of excellent restaurants and bars.
Villanova: go shopping in this colorful Cagliari neighborhood. Pick up a souvenir such as local olive oil or ceramics and visit the imposing San Saturnino Cathedral.
Join this walking tour with a local guide to learn more about the history of this beautiful historic city on Sardinia.
Admire the famous pink flamingos
These beautiful creatures are called Sa Genti Arrubia in Italian and have lived on Sardinia for generations. The Molentargius pond near Cagliari is one of the best places to see them.
You can visit the Natural Park independently or join this fun 2-hour bike tour. Read more about the pink flamingos of Sardinia here.
Budget accommodation in Sardinia
Accommodation in Sardinia is plentiful and there is something to be found for every budget. Below you can read more about the places we stayed during our trip.
Alternatively, you can check Booking.com for more hotel options in Sardinia.
Accommodation in Alghero
We stayed at Alghero 4u Guesthouse. Max, the host, was very friendly and showed us around the apartment.
He also gave us a map of the city and recommended a pizzeria which turned out to be excellent! Budget accommodation with everything you need and in a good location, 10 min walk to the center of Alghero.
It's a bit noisy, we didn't mind, but if you are looking for a quiet stay this isn't for you (you share the kitchen and bathroom with other guests).
Price indication: €60
Click here to book Alghero 4U Guesthouse
Accommodation in Isola Rossa
We spent one night in Isola Rossa Appartamenti. The view from the veranda was beautiful, looking out over the sea and a beautiful sunset. The apartment was quite big and very clean.
The bed was comfortable, however, linens are not included. Bring your own bed linen and towels or pay an additional fee for a linen pack.
Also, there was a kitchen but no soap or sponge to wash the dirty dishes.
Price indication: €60
Click here to book Isola Rossa Appartamenti
Accommodation in Palau
The location of Costa Serena Village is absolutely stunning, with a beautiful view of the bay. The apartment itself is basic but clean and has good cooking facilities.
Please note that the swimming pool and shop are closed during the low season.
Price indication: €140
Click here to book Costa Serena Village
Accommodation in Sos Alinos
The absolute best thing about Cala Liberotto Residence is the outside kitchen, how cool is that! The rest of the apartment is nice as well, with a comfortable bed and a big clean bathroom.
Price indication: €120 per night
Click here to book Cala Liberotto Hotel Residence
Accommodation in Nuoro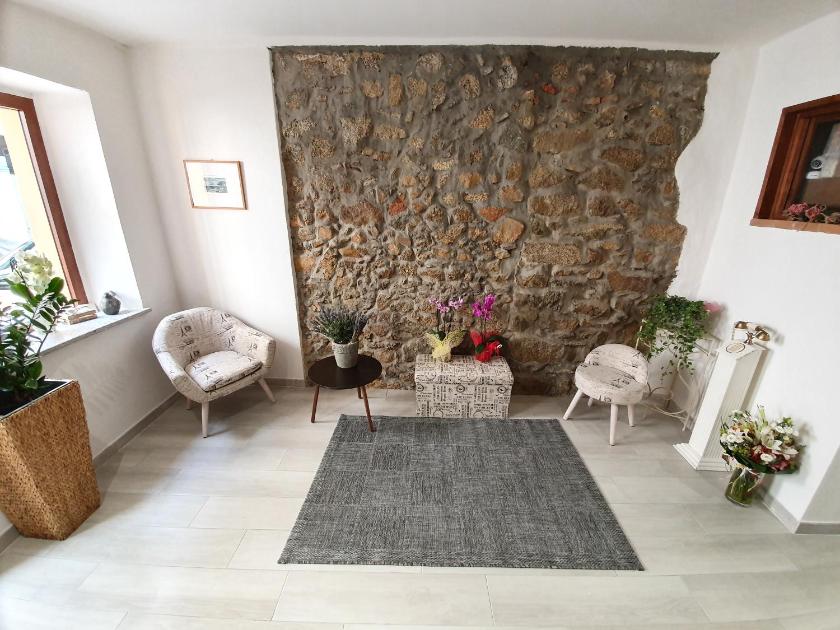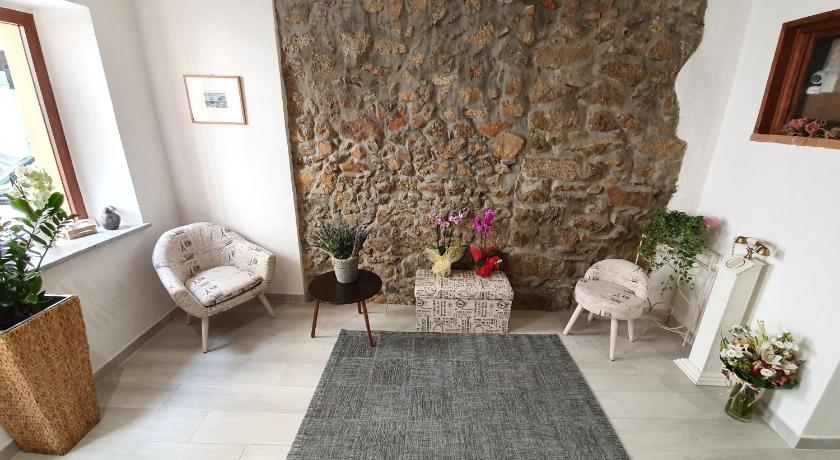 In Nuoro, we stayed at Terry's House. Very friendly staff who gave us excellent advice about Mastro Pizza. The room has a very comfy bed, a modern and clean bathroom, and excellent Wi-Fi and.
Please note that there is no private parking available (but lots of public parking).
Price indication: €65 per night
Click here to book Terry's House
Accommodation in Oristano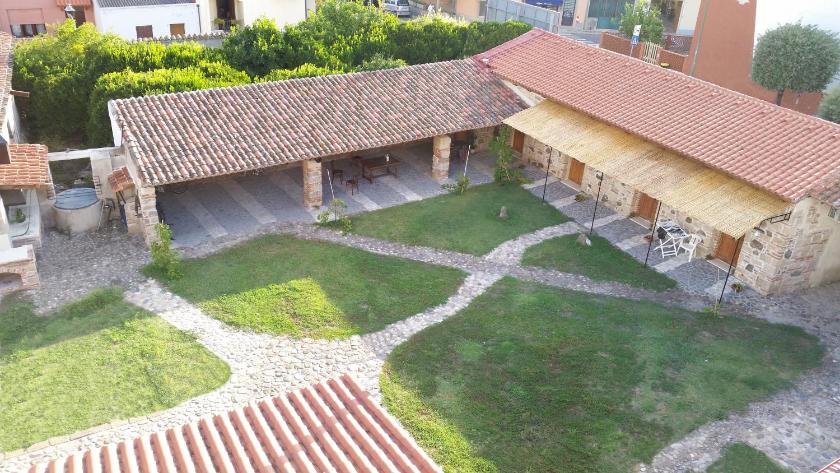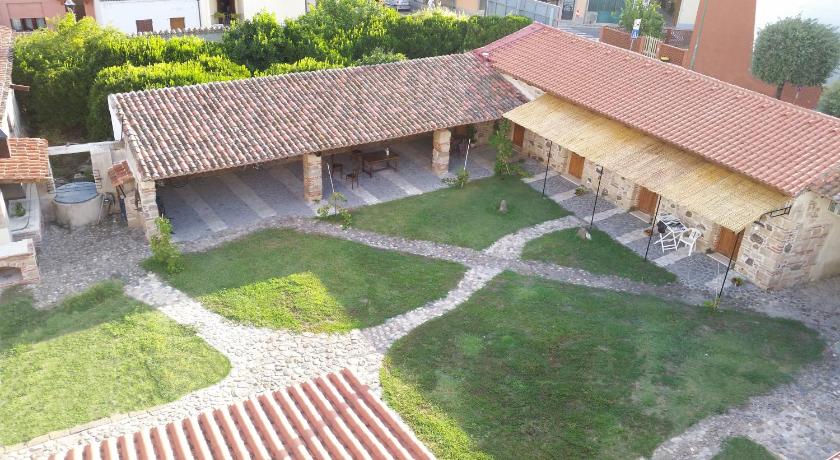 Everything about Sa Domu e Crakeras was fantastic, from the warm welcome with local wine and homemade cookies to the location (in the city center of Oristano) to the room itself, excellent!
The room is very clean, the bed really comfy, the bathroom is new with a large shower and the air conditioning is a nice extra.
The 'courtyard' looks really cute but is also convenient for parking the car. Highly recommended!
Price indication: €60 per night
Click here to book Sa Domu e Crakeras
Sardinia road trip itinerary: in conclusion
I hope you have enjoyed this Sardinia travel guide and it has inspired you to road trip to Sardinia.
If you have any questions about putting together the best itinerary for your Sardinia vacation, leave a comment below, send me a message or take a look at my custom itinerary planning service.
This post was updated in June 2022.