Jasper National Park is one of Canada's most popular destinations and rightly so. This stunning National Park has lots to offer, from gorgeous blue lakes to amazing hiking trails, thundering waterfalls, and relaxing hot springs.
Jasper may be small but the town itself is lovely as well. With a selection of excellent restaurants and accommodations suitable to any budget, it's easy to spend a couple of days in Jasper.
And to make your stay even more enjoyable, it's important to choose the accommodation in Jasper that best suits your needs.
This guide to where to stay in Jasper National Park includes great options for any budget, from the very affordable and cozy HI Jasper to the lovely but more expensive Pyramid Lake Resort.
Here is our list of the top hotels in Jasper, Canada!
Where to stay in Jasper National Park
Disclosure: Some links in this post are affiliate links. If you make a purchase through one of these links, I may earn a small commission (at no extra cost to you!). I'm very grateful when you use my links to make a purchase:-).
The 10 best hotels in Jasper National Park
Below I've listed the best Jasper hotels for all types of travelers (luxury, mid-range, and budget).
Note: Prices for these hotels depend on the time of year and how far in advance you book. Therefore, the prices mentioned above are a rough indication of the price per night to help you compare the different options. Use 'click here' to see the latest prices on Booking and book ahead to get the best deal.
Best place to stay in Jasper: map
Check the map below to see where the Jasper National Park lodging options included in this post are situated.
Most are in or near downtown Jasper, however, the Overlander Mountain Lodge and Jasper East Cabins are a bit further afield.
Click here for the interactive map
Fairmont Jasper Park Lodge ☆☆☆☆
The Fairmont Jasper Park Lodge is a lovely property, a hotel like no other, situated a few kilometers outside the main town center you truly get the feeling of being in the wilderness.
Of course, the elk roaming past the cabins adds to the wonderful feeling of remoteness as well.
The lodge is located on a fantastic natural site with beautiful surroundings and with 442 rooms this is one of the largest hotels in Jasper, Alberta.
The Fairmont Jasper Lodge has lots of facilities, such as an award-winning golf course, an outdoor pool and sauna, a spa, and several on-site restaurants.
Facilities aside, the professional staff will go out of their way to make your stay a happy one. And if you've got some time left in your Jasper itinerary, be sure to pay the Jasper Planetarium (next door) a visit.
What's great?
The Fairmont Jasper offers everything one may need for a relaxing holiday in Jasper National Park, from tasty drinks, and amazing amenities to beautiful scenery.
There's no need to leave the property as everything you may possibly need can be found on-site, including amazing food.
That being said, I highly encourage you to leave your happy Fairmont bubble every once in a while to explore Jasper National Park, one of the most stunning places I've ever visited.
Rooms are decorated with neutral and warm colors, some have lake views. Furthermore, the flat-screen TVs come with children's channels and there is a small refrigerator in each room.
In addition to stylish comfort, the Fairmont Jasper Park Lodge offers a wide range of recreational activities every day including yoga, stargazing, hiking, or even a helicopter tour.
What could be improved?
The room service menu could do with a few more healthy options and waiting times can be fairly long. There is no aircon in each room and parking can be an issue during high occupancy.
Click here to book Fairmont Jasper Park Lodge
Pyramid Lake Resort ☆☆☆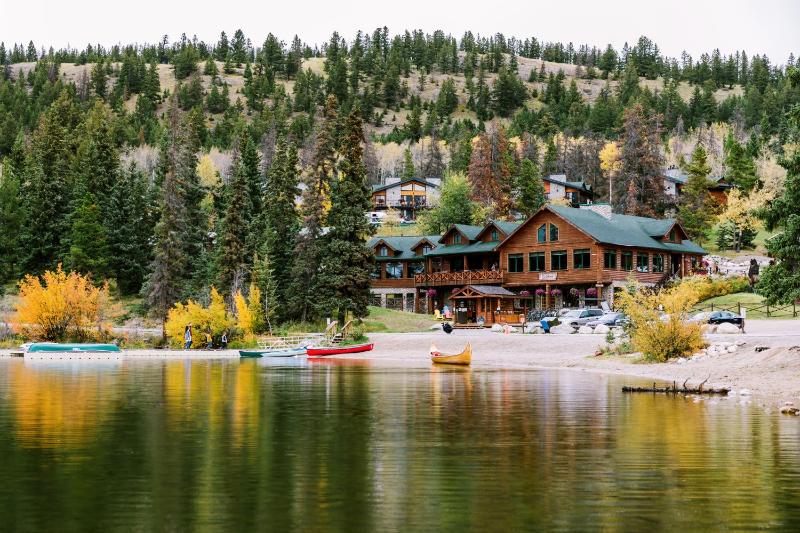 The Pyramid Lake Resort is one of the fancier Jasper accommodations and has 62 guest rooms in total, all with cozy fireplaces and breathtaking lake and mountain views.
As the name suggests, this chalet-style resort is situated on the shores of Pyramid Lake, a short 6.5 km drive from Jasper. Electric bike rentals are available so you can easily cycle to town to do some shopping or to grab a bite to eat.
That being said, you can also opt to eat onsite as the Pyramid Lake Resort serves breakfast, lunch, and dinner.
What's great?
Rooms are simply furnished and feature a gas fireplace, free WI-FI, and (cable) TV. Other amenities are a microwave, mini fridge, in-room safe, and air conditioning.
The resort offers easy access to outdoor activities such as canoeing, fishing, and hiking.
In the hotel lobby, you'll find all-day complimentary coffee, tea, and hot chocolate, along with s'mores kits. There is a barbeque and a fire pit so you can grill up your own mountain feast.
What could be improved
WiFi can be slow and water pressure is low. While all rooms come with a view, the view from the rooms on lower levels can be a bit limited.
Click here to book Pyramid Lake Resort
Pine Bungalows ☆☆☆☆
The Pine Bungalows advertises itself as 'rustic cabins with mountain charm' and that's exactly what you get when checking into this lovely property.
Situated in the heart of Jasper National Park, you're surrounded by beautiful nature and the calming sound of the Athabasca River.
Pine Bungalows provides a peaceful setting where you can unplug and unwind, with excellent wildlife viewing opportunities during the days and stargazing at night.
What's great?
Pine Bungalows offers spacious rooms and cute cabins, some with kitchens so you can cook your own meals, a great way to save money on your Canada trip.
The staff is friendly, warm, and accommodating and will make your comfortable stay even more enjoyable.
The wood-paneled cabins are comfortable and cozy. Each has a lovely porch with a table and chairs, so you can have meals outside while enjoying the quiet surroundings.
Pine Bungalows is within walking distance of Jasper town but feels very secluded. It's a great place to take a break from your busy life, breath in the fresh mountain air, and (re)connect with nature.
What could be improved?
WiFi is not good and TV reception can be poor as well. Rooms are basic, so if you come expecting a very luxurious resort, Pine Bungalows may not be the best choice for you.
Also, the fridge is a bit noisy and the beds are small making them less suitable for tall people.
Click here to book Pine Bungalows
Jasper East Cabins ☆☆☆☆
Nestled at the edge of Jasper National Park, Jasper East Cabins is situated around 55 kilometers from Jasper town (a 40-minute drive) and 28 kilometers from Miette Hot Springs (a 30-minute drive).
Tucked away in a lovely quiet part of the park, you can enjoy scenic views of the Roche à Perdrix Mountain from your cabin porch.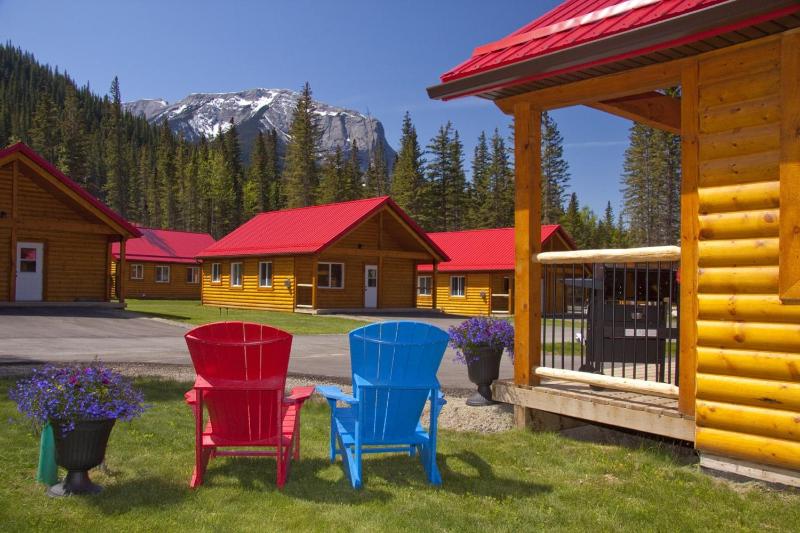 What's great?
Depending on the size of your party, you can choose the accommodation that suits your needs (from studio to three-bedroom cabins for families).
The cabins are equipped with a private bathroom, a gas fireplace, and a small kitchenette with a mini-fridge, utensils, coffee- and- tea-making facilities, a 2-burner stove, and a microwave.
The Folding Mountain Brewery next door serves up tasty food and great beer. Don't worry about driving home, you can easily walk back to your cabin.
You can even bring your furry friend along, there are several cabins that are pet-friendly.
What could be improved?
As with some of the other cabins in Jasper National Park, WiFi isn't very fast. Considering you're most likely visiting Jasper National Park to enjoy nature this shouldn't be too much of a concern but it can still be annoying.
Other improvements would be bedside tables and better curtains.
Click here to book Jasper East Cabins
Mount Robson Inn ☆☆☆
Mount Robson Inn is located in Jasper town and is only a 10-minute walk from the famous Bear Paw Bakery.
This property is one of the most popular Jasper National Park hotels, both during the summer months as well in winter. Not surprising when taking into that the Mount Robson Inn offers a seasonal ski shuttle service as well as ski storage and coin-operated laundry machines.
What's great?
The hotel has been thoroughly renovated and the rooms are very modern, clean, and comfortable. Free WiFi is provided in all guest rooms.
Other facilities include outdoor hot tubs (year-round), a complimentary breakfast buffet, and several family-friendly amenities such as a complimentary playpen and a high chair.
The staff is lovely and happy to recommend fun things to do in Jasper National Park. Free parking is available, and while the hotel parking lot is a bit small there is ample (free) parking available across the road.
What could be improved?
There is no elevator which can be an issue for guests with mobility issues. Note that the property is next to the train tracks so expect some noise from passing trains.
Click here to book Mount Robson Inn
Marmot Lodge Jasper ☆☆☆
Located on the main street, Marmot Lodge Jasper offers classic and cozy mountain-style lodging in Jasper National Park.
With an indoor swimming pool, sauna, and indoor and outdoor hot tub this is a nice place to relax after a day of sightseeing in and around Jasper.
What's great?
This dog-friendly property offers spacious rooms with air conditioning, HD television, eco-friendly bathroom amenities, a mini fridge, a hairdryer, and free high-speed internet.
Guests can grab a cup of coffee at the onsite Starbucks or enjoy dining at Evil Dave's Grill.
What could be improved?
This is an older property that could do with some updating. Several guests have noted that rooms don't have a sufficient number of sockets which makes charging your electronic devices a bit of a challenge.
Click here to book Marmot Loge Jasper
The Crimson Jasper ☆☆☆
The Crimson Jasper is very centrally located, it's only a 5-minute walk to the town of Jasper, and more importantly, to the Bear's Paw Bakery.
The onsite restaurant (Terra), fitness center, indoor pool, and hot tub are just some of the facilities the Crimson Jasper has to offer.
What's great about The Crimson Jasper
The Crimson Jasper has a great location in one of the best areas in Jasper, close to everything you need during your stay.
The spacious rooms are equipped with comfortable beds and convenient amenities such as a coffee machine, microwave, refrigerator, and electric kettle.
Views from the balcony are great and the complimentary WiFi works well.
What could be improved
Due to the location next to the train tracks, expect noise from freight trains. Also, the is no daily cleaning, and hotel parking is limited (though there is public parking available on the street).
Click here to book The Crimson Jasper
Overlander Mountain Lodge ☆☆☆
The Overlander Mountain Lodge is nestled in the heart of the Canadian Rockies and a 45-minute drive from Jasper.
Don't let its remote location deter you, this comfortable, cozy, and pet-friendly accommodation in Jasper National Park is the perfect place to help you unplug, unwind and feel connected to the nature that surrounds you.
What's great?
The rooms have comfortable beds and a cozy sitting area with a gas fireplace. Alternatively, you can also enjoy a drink in front of the wood fireplace in the Fireside Lounge (a cozy communal living room).
While the rooms are nice, it's the fantastic scenery that really sets the Overlander Mountain Lodge apart. You can't help but be impressed by the stunning views from your balcony or the summer patio of the onsite Stone Peak restaurant.
What could be improved
Guest rooms are a bit dated and don't have air conditioning or a TV.
Click here to book Overlander Mountain Lodge
HI Jasper ☆☆☆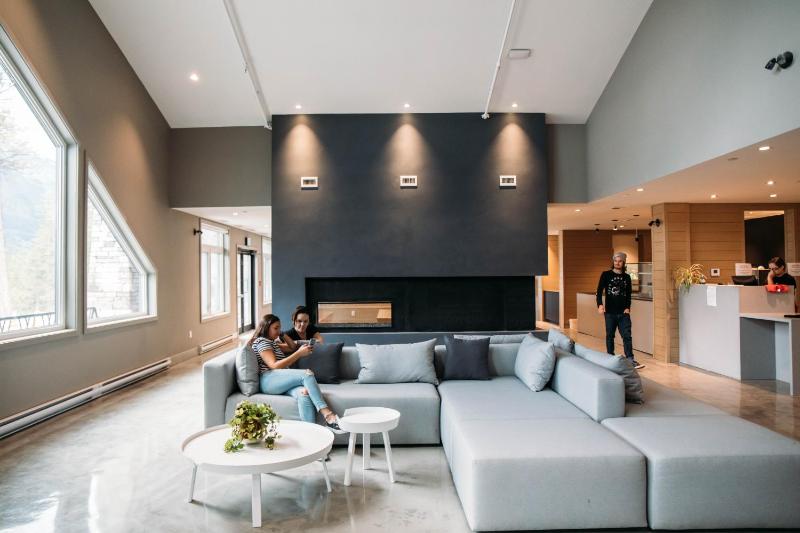 If you're traveling Canada on a budget, look no further than the HI Jasper hostel. This modern Hostelling International Canada property opened in May 2019 and is one of the few budget-friendly hotels in Jasper National Park.
Whether you're after a shared room to meet new people, a private room, or even family suites, the hostel welcomes people of all ages to their new downtown location.
What's great?
HI Jasper has a game room, a cozy lounger, a cafe catering to guests, and also offers free parking. Plus, those with HI-Memberships will receive a discount.
This property has a very friendly and accommodating staff and a nice coffee place. It's a spacious, new, and clean hostel with a yard to chill and relax.
There is free parking available and guests can play pool and billiards in the communal area at the hostel.
What could be improved
There is no air conditioning the ventilation/heating system is a little noisy.
Jasper Downtown Hostel ☆☆☆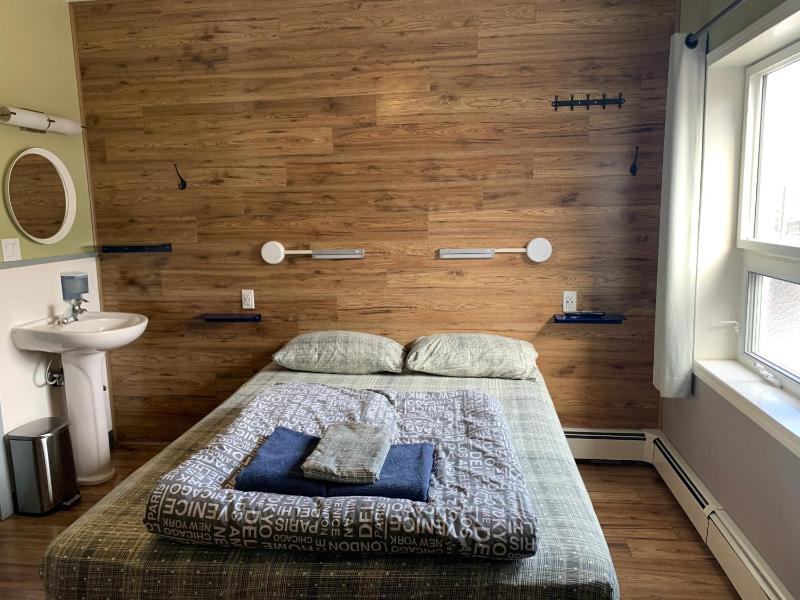 Lodging in Jasper National Park is expensive, which is why Jasper Downtown Hostel is a welcome addition for budget travelers.
The hostel offers private rooms with ensuite bathrooms for up to 4 people and dorm rooms with shared facilities.
Its central location makes it a great place to base yourself, you're only a short walk from the train station as well as Jasper's restaurants, grocery stores, and gift shops.
That being said, you'll need a car to explore Jasper National Park itself (this is true for all properties in this hotel in Jasper Alberta list).
What's great
Jasper Downtown Hostel offers its guests a fully equipped and well-organized kitchen, a comfortable lounge, laundry facilities, and lockers to store your equipment.
The privacy curtains in the dorm rooms are a nice feature not found in most hostels. The shared bathrooms are very clean and never too busy.
Traveling families should note that children 4 years or younger can stay free of charge. Children over 4 years old will be added as an extra guest.
Something else which sets Jasper Downtown Hostel apart is the cheerful and competent staff who will make you feel welcome and at home.
What could be improved
Rooms don't have air conditioning, walls are thin so the hostel can be noisy. Parking can be an issue as well as there are only 4 hotel parking spaces.
Click here to book Jasper Downtown Hostel
Best places to stay in Jasper National Park: in conclusion
There are a lot of great options for all budget ranges when it comes to Jasper National Park accommodations.
Some may argue that it doesn't matter where you stay because you'll spend most of your time exploring the beautiful National Park.
While that may be true, finding the perfect Jasper accommodation for your trip can make your trip even better. Choose any hotel on the list above and you're bound to have a fantastic time in Jasper National Park.
Got more time to spend in the Canadian Rockies Mountains? Also check out these posts:
Traveling to more places in Alberta? You may also like these posts:
Click here for all the Canada posts.
Plan your Canada trip like a pro with these tools:
✈️ Find the best flight deals with Kiwi.com.
🚐 Rent a campervan for your Canada road trip (or a car via Rentalcars.com).
🌐 Arrange your Canada working holiday with Global Work & Travel.
📖 Plan your journey with the Canada Lonely Planet.
🛏️ Find the best hotel deals on Booking.com.
😎 Join the best tours in Canada via Get Your Guide or Viator.
🗺️ Travel safely and get reliable travel insurance from Safety Wing.