Wellington is the capital of New Zealand and this small city offers a wide range of activities despite its small size.
This Wellington itinerary will help you plan your trip to Wellington and make the most of your visit to this quirky and windy city!
Wellington itinerary
This post contains affiliate links.
Please read my disclosure policy for more information.
Where to go in Wellington: map
In the map below you can find all the cool things to do in Wellington, as well as suggested places to stay and eat.
Click here for the interactive map.
Wellington things to see in and around town
Te Papa Tongarewa Museum
Cuba Street
The Wellington Cable Car
Parliament Buildings
Old Saint Paul's
Wellington Waterfront
Zealandia Ecosanctuary
Mount Victoria Lookout
The Weta Cave
Paekakariki Escarpment Track
Fun and interesting things to know about Wellington
How many people live in Wellington?
With a little over 400.000 residents, Wellington is the second most populous urban area of New Zealand (Auckland is the largest) and New Zealand's capital.

Wellington is comprised of four different cities: Wellington City, Porirua, Lower Hutt, and Upper Hutt.
Why is Wellington called 'Windy Welly'?
Wellington is nicknamed 'Windy Welly', which is due to the fact that the city is located in the 'Roaring Forties'. This meteorological phenomenon occurs between 40 and 50 latitudes in the Southern Hemisphere.

Hot air from the equator meets the cold polar wind, resulting in average wind-speeds of 29km/h in Wellington city on an ordinary day. On windy days (180 days a year), however, gales 75km/h aren't unheard of.
What is the best time to visit Wellington?
If you want to avoid the crowds it's best to visit in October-November (Spring) or March-April (Autumn). Temperatures are between 15-20°C and the weather is generally sunny and dry.
How many days to spend in Wellington?
Ideally, I would recommend spending at least three or four days in Wellington. That way, you will be able to see many of the Wellington highlights listed below without feeling rushed.

During your visit to Wellington, you can add some Wellington days trips to your itinerary as well. There are several great options listed in this post.
Best places to visit in Wellington
1. Visit the Te Papa Tongarewa Museum
Stella from Around the World in 24 Hours: Windy Wellington, New Zealand's capital, has many wonderful attractions. An absolute must-see in Wellington is the famous Te Papa Tongarewa, the Museum of New Zealand.
Te Papa is opened between 10 AM to 6 PM every day of the year (except Christmas) and is completely free to visit.
The museum is very centrally located on 55 Cable Street and will be easy to reach no matter where in Wellington you are staying.
Te Papa contains exhibits on any and every aspect of New Zealand history and culture. If you are interested in New Zealand's glorious wildlife, start with the exhibit on the national icon, the kiwi bird.
But don't miss the other unusual New Zealand animals, like the world's tallest bird, the moa, and the majestic Colossal Squid.
If you are more interested in history, you can see artifacts from the Treaty of Waitangi and the tragically famous World War I Battle of Gallipoli. There's also a major section dedicated to the devastating earthquake that leveled the towns of Napier and Hastings back in the 1930s.
Perhaps the most interesting section of Te Papa is dedicated to Maori culture. It's not permitted to take photos of most of the Maori artifacts.
However, Te Papa does have a beautiful wharenui, which means meeting house in the Maori language.
Here you can take pictures and see the work of modern Maori artists. It's the perfect place to learn about the fascinating Maori culture.
Set aside an entire day for this magnificent museum, it's worth every minute!
2. Stroll through Cuba street
Lauren from Justin Plus Lauren: Cuba Street is one of the most famous streets in Wellington and also one of the most lively areas of the city. In fact, the street is even registered as a Historic Area under the Historic Places Act.
The street is a pedestrian mall and a very walkable part of Wellington. You can check out bohemian shops, kitschy cafes, and restaurants with many international flavors.
It's an area for creativity, self-expression, and the arts, featuring exhibitions, street performers, and galleries. The street is decorated with colorful street art and displays of public art.
The Wellington Night Market happens on Cuba Street every Friday and Saturday night, and you must check it out when you're in town on (one of )these days.
It's a great foodie adventure, featuring cuisines from around the world. You'll be able to discover many new flavors on for very reasonable prices.
TheWellington Night Market is a free entertainment event that brings even more excitement to vibrant Cuba Street. Cuba Street, along with many other wonderful places to visit in Wellington, makes the city an excellent addition to any New Zealand road trip.
3. Ride the Wellington Cable Car
Emma from Emma Jane Explores: the Wellington Cable Car is a historical funicular that rattles and glides up 120 meters from the city center to the hilly, lush greenery of Kelburn where remarkable views of Wellington's waterfront below can be enjoyed.
The cable car was opened in 1902, making it a foundational part of Wellington's history and one of the best things to do in Wellington.
A trip on the cable car won't take too big a chunk out of your day or your wallet. A ride from end to end takes a mere 5 minutes and will set you back less than $10 NZD for a return trip.
Wellington's Snapper and transport cards can also be used. To catch the Cable Car, you'll need to head to Lambton Quay in Wellington's center, where you can purchase your ticket and wait for the cable car to pick you up.
You won't be waiting long, as the cable car arrives every 15 minutes.
The best part about taking the cable car up into the Wellington hills is the view over the Wellington Harbour, which can be enjoyed from a grassy knoll at the final stop of the cable car's journey.
Here is the perfect spot to sit, take in the sights and stop for a picnic lunch.
The Wellington Botanical Gardens are also located here, so be sure to spend some time wandering the beautifully set out, curated gardens.
You can either hop back into the cable car or follow a trail down through the Botanical Gardens back down into the city (you will end up at the New Zealand Parliament Buildings, the next stop on the itinerary).
4. Take a tour in the New Zealand Parliament Buildings
Sarah from Sarah sees the World: the Parliament Buildings are a famous Wellington landmark.
Free guided tours of New Zealand's Parliament buildings are available on the hour, every hour between 10 am and 4 pm seven days a week.
As well as taking you inside the famous Beehive (a building shaped like its name would suggest!) and other buildings, you'll learn about New Zealand's parliamentary processes and history and see some amazing photos and pieces of art.
Group sizes are limited, so you need to make a booking via phone or email at least 24 hours in advance. You need to arrive 15 minutes prior to the start of your tour, go through security screening and check-in any bags before the tour starts.
Cameras and phones are not allowed on the tours and some areas are off-limits to the public, such as the Prime Minister's office.
As somebody who is lucky enough to be living in Wellington, I've done this tour several times with visitors and have found it to be very different each time as the different hosts have different stories to tell.
5. Old Saint Paul's
Old Saint Paul's is a beautiful little church, built with different types of wood native to New Zealand (such as totara, kauri, and rimu).
This unique wooden church was built in 1866, the entire building was finished in a mere nine months!
The church is beautiful both on the outside and as well as the inside. The lighting within Old Saint Paul's is stunning, filtering through the stained glass windows and creating a very special atmosphere.
Old Saint Paul's is one of the best examples of Gothic Revival architecture in the world, a Wellington landmark and a popular wedding venue.
The church was almost demolished in the 1960s, luckily it was purchased by the New Zealand Government and subsequently renovated.
Extensive earthquake strengthening works have been executed in 2019, to preserve Old Saint Paul's for future generations.
6. Wellington Waterfront
Ioana from The World Is My Playground: one of the most beautiful places in Wellington is the bustling waterfront.
Separating the central city from the water, the pedestrian-only waterfront is one of the best places to visit in Wellington. It has the perfect mix of adventure, culture, history and beautiful scenery.
The best time of day to visit is early in the morning and experience the serenity this area has to offer. If you're a morning person, get there just after sunrise to see the sun dancing on the water in the golden hour glow.
Wander around and explore the area or take the Writer's Walk to see the 19 text sculptures with quotations about the city of Wellington.
Keep an eye out for the beautiful Maori carvings and unique sculptures that you'll see while you walk around.
For adventure types, there's plenty to do in the area as well. Hire a bike from a nearby shop, go roller skating, rock climbing, or rent a kayak or paddleboard to see the waterfront from a different angle.
Other points of interest are the Wellington Museum, the Wharf, Chaffers Marina and the sandy beach at Oriental Bay.
Oriental Bay also has quaint cafes that are perfect for taking a break or enjoying delicious gelato.
Things to do near Wellington
There aren't just many top things to do in Wellington center. If you venture a little further afield there is a whole lot more to be explored.
7. Learn about conservation at the Zealandia Ecosanctuary
Viola from the Blessing Bucket: if you are an animal lover, check out Zealandia in Wellington.
This world-renowned urban ecosanctuary is home to many of New Zealand's rare and endangered native wildlife, mostly birds and reptiles.
Zealandia started as a conservation project with a beautiful 500-year plan to recover Wellington valleys, forests, and freshwater ecosystems.
Their vision is to restore the area to its pre-human state as close as possible and undo many of the damages brought on by mammalian predators.
Since the start of this ambitious plan, Zealandia has been able to reintroduce 18 species of native wildlife back to the area.
As you walk around the grounds, which are set around a stunning reservoir, you can see many endemic birds and creatures, such as little spotted kiwi, kākā, and tuatara.
It only takes a mere 10 minutes to get to Zealandia from Wellington CBD, by car or with public transport. Zealandia is opened Monday to Sunday from 9 am to 5 pm and costs $21 per adult ($10 per child between the age of 5 to 17, kids under 5 can visit for free).
Consider joining one of the informative tours led by knowledgable guides, who will point out all the special species living in the sanctuary and teach you all about the unique natural history of New Zealand.
8. Mount Victoria Lookout
Katie from Two Wandering Soles: getting a glimpse of Wellington from above should definitely be on your list of things to do in New Zealand.
While not exactly a true mountain, Mount Victoria stands 196 meters (643 feet) tall and offers sweeping 360-degree views of the capital city and bay below.
Depending on how much time you have and how fit you are, there are a few different ways to get to the viewpoint at the top.
The easiest and quickest way to reach the viewpoint is to drive. You can also catch Bus 20 from Courtenay Place, which will bring you to the top for around $4 NZD.
If you're up for a bit of exercise and have more time to kill, you can also hike up to the lookout point. There are a couple of different walking routes that lead to the summit, some through pine tree forests and others with more exposed views.
Once you reach the top, be prepared for strong winds. The lookout at Mount Victoria's summit is exposed to the elements, so there is no protection on rainy or windy days.
Also, be sure to bring your phone or camera, because you'll definitely want to capture the beautiful views!
9. The Weta Cave
Stuart from Just Travelling Through: Wellington has a long-standing movie history and is often referred to as the film capital of New Zealand.
Both for the filming locations around the city, as well as the studios based in the area. If you love movies, a visit to the Weta Cave Workshop must be incorporated into your trip to Wellington.
The Weta Cave is a special effects workshop based on the outskirts of the city. These guys are the best of the best and have collaborated with some of the biggest names in the industry, including Peter Jackson.
They've worked on incredible high-profile projects, such as The Hobbit and Lord of the Rings.
Located around 8km from Wellington city center in the Miramar suburb, the Weta Cave is open 364 days a year from 9 am to 5:30 pm.
If you only want to visit the shop and watch the documentary (shown every 30 minutes) entry is free.
You can also see the famous trolls from the Lord of the Rings franchise lurking menacingly outside and pose for a photo with them.
Tours of the workshop are a must-do for any movie fan looking for a behind the scenes glimpse.
If you don't have your own car or campervan, bus number 2 from Wellington will take you to Miramar.
10. Hike the Paekakariki Escarpment Track
Jennifer from Backyard Travel Family: the Paekakariki Escarpment Track has to be one of the most scenic walks in Wellington.
Just an hour by train from Wellington train station, or a 35-minute drive from Wellington City, it's easily accessible by locals and international visitors alike.
This track showcases New Zealand's amazing coastline, where on a beautiful clear day, you can see all the way to the South Island.
You can view the incredible blue shoreline throughout the majority of the track, including Kapiti Island, a bird sanctuary and nature reserve.
This 10 km track takes around 3-4 hours to complete and runs from Paekakariki to Pukerua Bay. It is part of the Te Araroa Trail which runs the length of New Zealand.
Do be aware that this is not a track for the faint of heart. It's also known as New Zealand's Stairway to Heaven and is very steep in parts.
Beware if you have vertigo and a fear of heights. This is a trail right on the edge of the cliff. There are two amazing swing bridges to cross which are surely the highlights of the walk.
Hiking this trail is free thanks to the amazing Department of Conservation. Make sure you bring your own water and food as there is none available on the trail. Sunscreen and a jacket are recommended as the track is extremely exposed.
Getting here is easy, just hop on a train to Paekakariki train station or Pukerua Bay Station (or drive and park here).
The track starts close to both of these train stations. You can walk the trail in either direction, but our preference is to start at Paekakariki.
Best places in Wellington to eat or have a drink
Boulcott Street Bistro
Nicole from Nicole LaBarge Travel: I've been living in Wellington for 15 years now and if there is one thing Wellingtonians know, its good food.
With so many places to eat, it can be hard to choose! The best thing to do is to ask a local what their favorite Wellington restaurant is, and you are sure to have a good meal there.
Boulcott Street Bistro is a Wellington institution that has been around since 1991. The bistro serves modern fare along with classic bistro dishes.
It's a favorite place of mine to celebrate a birthday, but it's also a great place to treat yourself to a nice dinner or lunch.
My favorite dish is the steak with béarnaise sauce and pomme frites and red sauce au jus. It's simply perfection.
Honestly, you could order anything here and it would be delicious, from the Sunday Roast to the scallops. Just make sure you leave room for dessert!
Craft beer tasting
Nicholas from the Rambling Feet: Wellington happens to be the New Zealand craft beer capital.
Every August, the Beervana festival takes place in the city and it attracts breweries and beer lovers across the country and further afield for three days of drinking the best, the boldest, and the wildest beers you'll ever encounter.
Even if you visit the city at other times, there are plenty of craft bars and taprooms to explore.
Garage Project's Cellar Door, Fortune Favours, Heyday Brewing Co., Panhead's Tory Street Bar and Tuatara's The Third Eye "temple of taste" are all located in Te Aro, while ParrotDog's taproom is in Lyall Bay, which is close to the airport.
If you feel adventurous, Panhead's tasting room is at their brewery in Upper Hutt, a short drive away. Prefer to try everything in one place?
You can head to the underground Hashigo Zake, the Little Beer Quarter, Golding's Free Dive or Fork & Brewer.
This list is hardly exhaustive, though, so go ahead and explore the city. It's all too easy for your visit to turn into your own craft beer festival!
The beer selection usually changes regularly at these places, but I can recommend the following if you see them:
Garage Project Yuzu Pernicious Weed (Double IPA)
Garage Project Fuzzbox (Hazy pale ale)
Panhead Supercharger (American pale ale)
ParrotDog Glen (Boysenberry kettle sour)
ParrotDog Keith (Hazy IPA)
ParrotDog Terry (Stout)
Tuatara Hefeweizen (Wheat beer)
The best places to stay in Wellington
Wellington offers plenty of accommodation for any budget. From free campsites to 5-star boutique hotels, the choice is yours when looking for the best Wellington places to stay.
Camping near Wellington: Owhiro Bay
If you have a self-contained campervan you can stay at Owhiro Bay campsite for free! It's only a 10-minute drive from Wellington, from the campsite you can enjoy a beautiful ocean view.
Note that this is a popular campsite and it's advised to arrive early as spots fill up quickly. Also, know that this is a very windy spot to spend a night! Not an issue, but good to know.
Less than €50 a night: Rise Hostel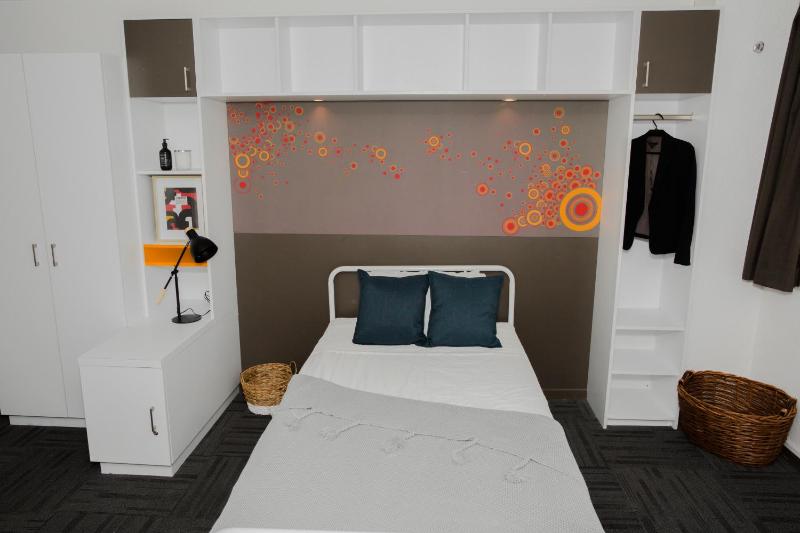 This clean and centrally located accommodation offers a twin room with a private bathroom for less than €50 a night!
Friendly staff, spacious rooms, and comfortable beds make Rise Hostel excellent value for money.
Click here to book via Booking | Click here to book via Agoda
Less than €120 a night: Sofitel Wellington
Looking for a 5-star hotel without the 5-star price tag? The Sofitel offers a classic queen room for a very reasonable rate of €115 a night!
Your money will buy you a city view room with a comfortable bed, a modern bathroom, high-speed internet, tea making facilities and lots of other amenities.
The genuinely nice staff will make you feel at home and are always happy to help with any question you may have about Wellington. A highly recommended place to stay!
Click here to book via Booking | Click here to book via Agoda
Just over €200 a night: Bolton Hotel
While not cheap, the Bolton Hotel is the place to go when you want your Wellington trip to be even more memorable!
An elegant 5-star boutique hotel that offers a choice of spacious studios and suites (suites come with a fully equipped kitchen!).
Furthermore, there is a fitness center, a spa pool and the in-house restaurant Artisan serves delicious modern New Zealand dishes.
This hotel is great for couples but also welcomes traveling families.
Click here to book via Booking | Click here to book via Agoda
The best Wellington activities: in conclusion
I hope this post has given you lots of inspiration for your Wellington trip! It's such a lovely city and it's dangerously easy to stay (a lot) longer than you planned.
Looking for more New Zealand posts? Also read these articles:
This post was updated in May 2022.