If you have never been to Ottawa, I am telling you right now that you are missing out! Ottawa is home to so many awesome things; even better, it's home to plenty of things you can do with your little ones.
In fact, did you know that Ottawa is known as one of the best cities to live in Canada for families and work?
If you are traveling to Canada with your children (teens, kids, babies or toddlers), you have absolutely nothing to worry about, there are numerous fun things to do in Ottawa with kids!
Things to do in Ottawa with kids
Disclosure: Some links in this post are affiliate links. If you make a purchase through one of these links, I may earn a small commission (at no extra cost to you!). I'm very grateful when you use my links to make a purchase:-).
This post is written by Divine, the owner and creative director of three amazing online blogs. If you are interested in becoming a female entrepreneur yourself, head over to Ladies Make Money Online where Divine shares her secrets and advice.
Why you should plan a family trip to Ottawa
As the capital city of Canada, Ottawa has invested a lot of time and thought into having great facilities available for young kids. Ottawa has many great things you can take advantage of with your children.
From amazing museums to the splendid festivals that Ottawa hosts year-round, to simply taking a walk around downtown Ottawa, you won't run out of things to do.
With this in mind, we are going to share the best family activities Ottawa has to offer!
Places to visit in Ottawa with kids: map
Click here for the interactive map
Best family hotels in Ottawa
In the table below you can find the best hotels in Ottawa with kids. Further down in the post you can read more details about these hotels.
Note: Prices for these hotels depend on the time of year and how far in advance you book. Therefore, the prices mentioned above are a rough indication of the price per night to help you compare the different options. Use 'click here' to see the latest prices on Booking and book ahead to get the best deal.
Top 3 family activities in Ottawa
For families with teens: take a spooky stroll through downtown Ottawa on a guided haunted walking tour. Experience the darker side of Canada's capital and hear tales of the city's haunted heritage as told by a professional storyteller. Click here to book.
For families with kids 4-12: this small-group bike tour is perfect for families who want a safe and leisurely way to see Ottawa. Most of the route is on designated bike paths or quaint backroads that take you to some of Ottawa's cultural and natural highlights (infant seats are available). Click here to book.
For families with young kids: flexibility is key for families traveling with babies and toddlers. This informative self-guided audio tour allows you to go as per your own convenience of time, pace, and location. Click here to book.
12 amazing Ottawa kids activities
1. Parliament Hill
No family trip to Ottawa, or any Ottawa itinerary for that matter, is complete without a visit to Parliament Hill. Here your kids can see where the national government of Canada resides.
When visiting Ottawa with a toddler, your best course of action is probably to go for a stroll around the grounds and admire the beautiful buildings from the outside.
However, if your kids are a bit older consider joining a tour around Parliament to learn more about Canadian legislation and the history of the imposing buildings.
Time your visit well to see the Changing of the Guards, which starts at 10 am and takes place every morning from late June through late August.
Be sure to arrive a bit early (15 minutes before) to secure a good spot to watch the event.
2. Visit the Children's Museums
Did you know that Ottawa had a kid's museum? I took my daughter to enjoy a day at this wonderful museum and can say from my personal experience: the Canadian Children's Museum is a must-visit for any parent traveling with children!
Note: the Children's Museum is located inside the Canadian Museum of History (see #11). Click here to book a ticket online.
The Children's Museum is designed in such a way that it teaches young kids all about the different countries around the world.
It's a highly educational museum, with many interactive games and instructors who do their best to expand these little kids' minds.
Each kid is given a passport when entering the museum, enticing them to go around the different galleries to collect as many stamps as possible from all the countries they visit at the museum.
The Canadian Children's Museum is an amazing place to visit with your kids on an Ottawa trip!
Insider advice: here is a little bonus tip for you and your family: most museums are free to visit between 5:00pm – 8:00 pm (daily)!
3. Visit the Experimental Farm
Another fun activity for kids to do in Ottawa is spending (half) a day at the Experimental Farm. My little girl had blast at the farm, as she was able to play with all the animals and they had amazing demonstrations going on.
For kids that love animals, but are looking for something different than a zoo, the experimental farm is a must!
Expect to spend at least 3-4 hours at the experimental farm and dress appropriately for the occasion. There is also a play structure onsite, for kids who may be less interested in the animals but just want to have fun outdoors in a playground.
Insider advice: you are welcome to bring your own lunch and have a picnic, making this a budget friendly option as well.
4. Have fun at the beach
Which kid doesn't enjoy spending time at the beach? With a few amazing beaches in Ottawa and the surrounding areas, you are guaranteed to find a nice place to cool down with your kids.
Some of the most popular beaches in Ottawa include Mooney's Bay, Britannia beach, Westboro beach, and Petrie Island!
If you are lucky, depending on when you are visiting Ottawa, they are some amazing activities like the Ottawa Dragon Boat Festival or the Hope Volleyball Summerfest that take place in summer.
For kids, I absolutely recommend Petrie Island beach or Mooney's Bay. Be sure to visit at least one of them (but visiting both is better!) and spend some time with the locals.
5. Cruise the Rideau Canal (summer) or go ice skating (winter)
One of the best activities in Ottawa for kids in summer is cruising the Rideau Canal. Your kids will enjoy being out on the water and learning a thing or two about the historical landmarks you'll come across.
In winter, one of the Ottawa activities kids will enjoy most is ice skating on the Rideau Canal, the world's largest naturally frozen ice rink that spans over 7.8km!
From January until early March, the Rideau Canal Skateway is open 24 hours a day, seven days a week. Access is free meaning you can spend your cash on hot chocolate and a beavertail after your kids are all tired out from ice skating.
6. Visit the Calypso Water Park
You'll definitely want to take your kids to Calypso Water Park! Located approximately a 35-minute drive away from downtown Ottawa, the Calypso Water Park is one of the best water parks in Ontario.
In fact, Calypso is one of the largest water parks in Canada with over 35 water-slides and one of the largest wave pools in Canada!
For very small children, there is the jungle-themed Kongo expedition lazy river, which they will surely enjoy.
Though really, there is something for each age group at the Calypso Water Park, you are guaranteed to have a full day of fun here for the whole family!
7. Take your kids to a free playgroup
As I mentioned earlier, Ottawa has numerous amazing resources specifically designed and intended for families and children.
One of my favorite things to do with my kid is to take her to a playgroup. These are fun and intimate, and give her a chance to see other kids which is why it's one of the best free toddler activities Ottawa has to offer.
They are plenty of free playgroups in Ottawa that you can take advantage of, both indoors and outdoors.
Regardless of which area of Ottawa you are in, you can always find a few nearby playgroups to take your kids to in Ottawa.
8. Indoor and outdoor playgrounds in Ottawa
If you are looking for other indoor activities to do with your kids, you can also visit the Flying Squirrel Trampoline Park, the Jungle Gym at Funhaven, or Cosmic Adventures (Ottawa's largest indoor playground)!
Alternatively, you can enjoy all the outdoor playgrounds around Ottawa. Trust me, we have plenty!
9. Canadian Science and Technology Museum
There are several interesting museums for kids in Ottawa and your children will certainly enjoy a visit to the Canadian Science and Technology Museum.
This wonderful museum was thoroughly renovated (it was closed for 3 years!) and reopened its doors in 2017.
It features many interactive exhibitions that invite kids to play and experiment while learning about Canada's innovation story.
10. Visit ByWard Market
ByWard Market is one of the oldest farmer's markets in Canada and a great place to get some snacks.
Buy a beavertail (choose your toppings or go for the classic cinnamon and sugar flavor) or locally grown fruits and vegetables.
At ByWard Market you'll find many cafes and restaurants as well, serving up great dishes. It's a good spot to spend an hour or two and a nice place to look for some souvenirs to remember your Ottawa family vacation.
11. Canadian Museum of History
Anu from Destination Checkoff: visiting the Canadian Museum of History is one of the top things to do with your kids when visiting Ottawa.
The place is a historical and cultural playground for kids of all ages. Kids will want to spend hours here interacting and engaging with stimulating learning experiences while having lots of fun!
There are many interesting self-guided family activities to do here. Passport-type booklets and other handouts can be collected from the information desk, along with the list of events on the day of your visit.
The outside grounds have architectural sculptures and excellent views of the Parliament Hill building (#1 on this list).
The Canadian Museum of History has a Children's section which has a lot of cultural exhibits and marketplace-like settings from different countries of the world (read more under #2 on this list).
The kids get to climb on various animal statues and vehicles, engaging in pretend play. There are daily family activities like puppet making, mask decoration, and storytelling in the Studio.
The grand hall is huge and keeps changing based on the events going on. There are movie screenings at CINE+ inside the museum.
The Canadian Stamp collection might be interesting for older kids, as well as the Canadian History exhibits like First People Hall and Canadian History Hall.
The Museum is stroller friendly and there are changing tables in the restrooms. Plus, the Canadian Museum of History is easily accessible from downtown Ottawa by public transit, taxi, or rental car (click here for the best deals).
12. How to enjoy Ottawa with kids in winter
Renee of Dream Plan Experience: Ottawa is the perfect destination for a family-friendly winter getaway.
Some of the best things to do in Ottawa in the winter include outdoor activities like ice-skating on the Rideau Chanel (see #5), skiing, tobogganing, and snowshoeing all over the city.
A popular spot with families is Landsdowne Park in the lively Glebe neighborhood. Here you'll find a big hill for sledding and an outdoor rink for gliding.
Warm up in one of the on-site restaurants with hot chocolate or kid-friendly menus.
Over 100 kilometers of trails are groomed in Ottawa for winter walks, fat biking, cross-country skiing, and snowshoeing. And why not explore the Rideau Winter Trail along the Rideau River for its scenic views of the capital city?
Each year, for the first 3 weekends of February, Ottawa hosts a free winter festival called Winterlude. The biggest draw of this family-friendly festival is its spectacular ice-carving competition.
The action-packed program of exciting outdoor activities like the kid-friendly Snowflake Kingdom and skating along the Rideau Canal Skateway are also very popular.
Dawn your toques and mittens and embrace Ottawa's winter. It will be sure to bring out the inner child in you!
Best places to stay in Ottawa with kids
There are many family-friendly accommodation options available in Ottawa, suitable for any budget.
Ottawa Marriott Hotel
A great (but admittedly expensive) option is the Ottawa Marriott Hotel. It's very centrally located, there is a swimming pool, the rooms are spacious and there is even a game room with air hockey, mini-golf, toys, video games, and much more. Your kids will love staying here!
For the adults: there is a gym, the Spin Kitchen and Bar room is excellent and there is an onsite Starbucks as well.
The Business Inn
A more affordable and nice place to stay is The Business Inn. While you might not expect it given the name of the hotel, this is actually one of the best places to stay in Ottawa for families with kids.
Why? Because the studio rooms are very spacious and feature a fully equipped kitchen. Also, there is a free laundromat and an onsite restaurant.
The decor is a bit outdated, but on the plus side: breakfast is included in the very reasonable room rates.
Ottawa Apartment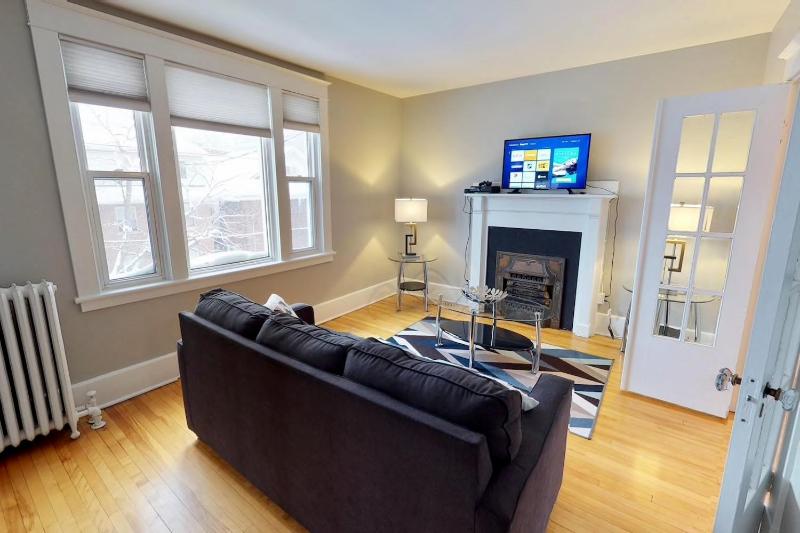 Alternatively, there are several nice apartments you can rent in Ottawa, such as this lovely, bright 2-bedroom flat in downtown Ottawa.
This spacious apartment has a kitchen, a laundry machine, and offers private parking.
We often prefer staying in an apartment with our kids. They usually offer more space and you can cook your own meals, which can be very convenient, especially with young children.
Getting around Ottawa with kids
Public transport
Ottawa has two major bus systems; if you want to use public transportation you would be looking at the OC Transpo bus or the Société de Transport de l'Outaouais (STO) that operates buses in the Outaouais region on the Quebec side of the Ottawa River.
You can buy a bus day pass, for prices, and bus schedules check the OC Transpo and STO websites.
Car
Alternatively, you can rent a car. Depending on the size of your family and the age of your children this may actually be cheaper than public transport tickets for the whole family.
Insider advice: if you are traveling with a baby, there are many companies where you can rent a car seat, so you don't have to bring one from home.
Hop-on-hop-off bus
A third option is a hop-on hop-off guided bus tour. With this 1-day pass, you can enjoy sightseeing in Ottawa from an open-top double-decker bus.
For families, this is an easy way to see lots of Ottawa highlights without having to walk for miles. Your hop-on hop-off guided bus ticket offers the chance to see over 75 sites at more than a dozen strategically placed stops.
You can hop off at every stop, or just take in views on the full city loop. Click here to book.
Travel times
The bus or O Train takes over 1.5 hours on average to get to the different locations within Ottawa. Depending on traffic and your exact destination, a car may be faster, however, parking can be an issue (especially downtown).
With young kids, I would recommend renting a car, both for convenience as well as shorter travel times. For older kids, public transport and the hop-on-hop-off bus are great options.
How to save money on an Ottawa family trip
Vacationing in Ottawa can be costly. Because Ottawa is the capital city of Canada, it's a popular place to visit and can be very touristy.
In order to cut the cost of your Ottawa family vacation, we have already listed a few activities you can do in Ottawa for free.
In order to save more money in Ottawa as you vacation, try to take advantage of as many free resources that Ottawa has to offer especially when it comes to kids.
For example, my daughter is 2 years old and therefore a lot of activities that we participated in were completely free for her to do.
Try to purchase tickets to any activity or festival at least a few weeks ahead of time as this will save you lots of money.
The same goes for booking flights, hotel rooms, trains, or car rentals. The more in advance you make the booking, the more money you will end up saving.
Use websites like Groupon to score some amazing discounts on hotels, food, and activities.
Plan your Canada trip like a pro with these tools:
✈️ Find the best flight deals with Kiwi.com.
🚐 Rent a campervan for your Canada road trip (or a car via Rentalcars.com).
🌐 Arrange your Canada working holiday with Global Work & Travel.
📖 Plan your journey with the Canada Lonely Planet.
🛏️ Find the best hotel deals on Booking.com.
😎 Join the best tours in Canada via Get Your Guide or Viator.
🗺️ Travel safely and get reliable travel insurance from Safety Wing.
Ottawa with children: in conclusion
We hope you enjoy your stay in Ottawa and that you take advantage of some of the fun activities for your kids! Download the Ottawa with kids PDF checklist below:
If you want to read more about traveling to Canada, also read these posts:
This post was updated in September 2022.