Looking for a relaxing getaway in Australia with lots of local charm? Visit Daylesford, Australia, the spa capital of Victoria! Daylesford is a trendy travel destination that attracts many (inter)national visitors to experience the healing mineral springs and spas found locally.
There are lots of things to do in Daylesford, Victoria. You'll get to discover the picturesque scenery of locations like Lake Daylesford, enjoy the relaxing atmosphere of the Hepburn Mineral Spring Reserve, and much more.
This post contains affiliate links.
Please read my disclosure policy for more information.
Things to do in Daylesford, Victoria
This post was written by Bryan, who is born and raised in Australia and writes for the Great Ocean Road Collective, a very informative website dedicated to sharing the beauty of the Great Ocean Road in Australia with travelers far and wide.
If you are planning your Great Ocean Road trip and need some inspiration, or if you are looking for authentic advice on Aussie travel, visit The Great Ocean Road Collective.
Why visit Daylesford, Australia?
Daylesford is a great destination for all types of travelers. No matter if you are looking for a romantic getaway (insider tip: book a room at the iconic Lake House Hotel) or if you are planning a family trip, there are lots of Daylesford attractions to keep you occupied.
Bring the entire family to explore the spa capital of Victoria and enjoy the incredible natural scenery surrounding Daylesford.
In this article, you can read all about what to do in Daylesford, the best Daylesford restaurants you have to try during your stay, and the top accommodation in Daylesford.
Get ready to experience one of Victoria's top travel destinations!
Things to know before traveling to Daylesford
Where is Daylesford?
Daylesford is located 108 kilometers north-west of Melbourne, at the foothills of the Great Dividing Range. Melbourne to Daylesford takes approximately an hour (by car) and Ballarat to Daylesford takes just 40 minutes.
Most people visiting Daylesford from outside the region arrive at Melbourne International Airport (MLB), where you'll have easy access to coach bus transfers stopping in Daylesford.
You can also rent a car to use during your visit. In my opinion, a car is the best way to get around Daylesford. While it's not a large city and you can explore many sights on foot, a car makes it easier to travel between multiple attractions and see everything on your itinerary. Many of the hotels and restaurants offer complimentary parking.
If you don't have a car, don't worry! You can also use public transportation or taxi services to get around Daylesford.
What is Daylesford famous for?
Daylesford is known for its mineral springs, but it's easy to confuse them with hot springs. Daylesford doesn't have public natural mineral spring baths, the local mineral springs are for drinking only. The Daylesford spas source the water and heat them for the spa experiences.
When to visit Daylesford?
Keep in mind that Daylesford is located in the southern hemisphere, so it's very well possible that seasons are reversed from where you are living. So contrary to the Northern Hemisphere, the summer in Australia lasts from December to February.
The best time to visit Daylesford is during these months, especially if you want to take advantage of the outdoor activities.
The winter lasts from June to August and is typically cold with lots of precipitation (not the best time for a Daylesford trip).
The best places to stay in Daylesford
As with all popular tourist destinations, you'll find many hotels in Daylesford, Victoria. In fact, when it comes to unique hotels, Daylesford offers plenty of options, ranging from heritage hotels to boutique inns and, of course, spa retreats.
Do you prefer to go glamping? Daylesford has got you covered (check out Cozy Tents)! You can also find many B&B's, rentals, and Airbnb accommodation around town.
The Lakehouse Daylesford
Lake House Daylesford is a 4-star hotel famous for… its views of (surprise surprise) Lake Daylesford! If you are looking for luxury accommodation in Daylesford, this is the place to go!
Daylesford Lake House is a wonderful place to celebrate a special occasion, such as a honeymoon or anniversary. You'll have everything you need for a romantic and relaxing stay with a spa and a restaurant on site.
Each of the rooms features modern amenities and stunning designs. You can enjoy the views of the lake from your balcony or lounge in your ensuite living room. All in all, the Lake House may just be the best accommodation Daylesford has to offer!
Peppers Mineral Springs Hotel
Peppers in Daylesford is a collection of villas built in the 1930s. It's located within walking distance of the Hepburn Mineral Springs Reserve but also has its own spa in the hotel.
The villas include large, upscale rooms with full kitchen and living areas. Beautifully manicured gardens surround the property and feature a unique hedge maze.
Daylesford Hotel
The Royal Daylesford Hotel is one of the most iconic hotels in town. This great Daylesford accommodation is housed inside a stunning 20th-century building with an extensive verandah and right in the city center.
A cozy atmosphere, simple rooms with comfortable beds, and all the amenities you need will surely make you feel at home. You'll always find locals hanging out in the hotel's restaurant and bar.
Frangos Daylesford
Frangos hotel Daylesford is located in the city center of Daylesford and another lovely place to stay. Each room is unique and beautifully decorated, with a modern bathroom and a kingsize bed.
At the insite cafe, Koukla Daylesford, you can order delicious food, enjoy a beer or grab a coffee. Or indulge yourself at Endota Spa, Hotel Frangos very own spa.
Cheap accommodation in Daylesford
Budget accommodation in Daylesford is a bit harder to come by, however, there is an excellent budget option for everyone who loves camping. Daylesford (and the surrounding area) offers excellent camping options. Be sure to check out the free Mount Franklin Reserve Campground or the lovely Jubilee Lake Holiday Park.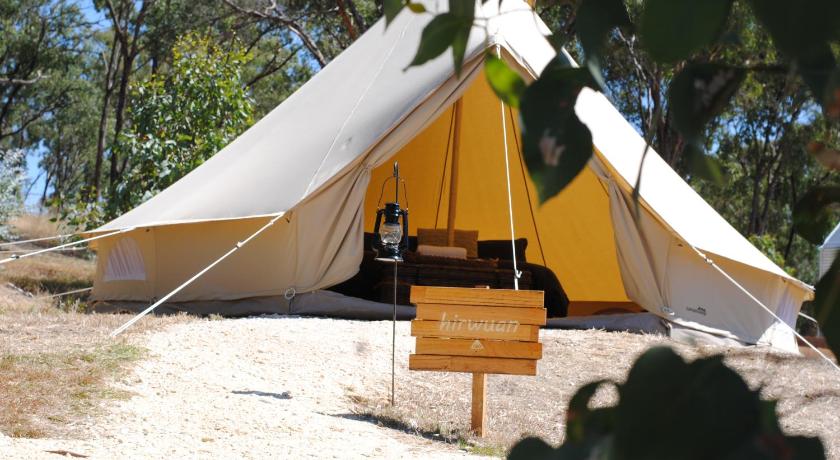 Daylesford: things to do
Daylesford is the perfect place to go for a relaxing holiday. It's easy to get around and has attractions around the entire town.
There are so many places to visit in Daylesford, you could easily spend a week here and not be bored. Below you can read about some of our favorite Daylesford activities and attractions.
1. Visit the local spas
If you love going to the spa, Daylesford is the place to be as it's undoubtedly the spa capital of Victoria. It's hard not to come across a spa while visiting Daylesford, and each one offers a unique experience.
Definitely add visiting a local spa to your travel itinerary for a chance to relax, refresh, and enjoy one of the best spas in the region.
A few of the best spas in Daylesford are:
Take advantage of the rich healing properties of the natural mineral baths sourced from nearby springs. You'll feel rejuvenated both on the inside and out. There are many day spas in Daylesford and you'll find a variety of relaxation packages custom-tailored to your experience.
The best part is that kids can even join you! Many of the local spas offer a public bathhouse that's family-friendly, so everyone can enjoy it.
2. Spend a day at Lake Daylesford
Lake Daylesford is one of the centerpieces of Daylesford that you must see during your visit. The lake is a manmade lake that offers incredible views and outdoor recreation for the entire family. You can always find things to do at Lake Daylesford, so give yourself at least one day to hang out at the lake.
You'll always see both locals and tourists handing out at Lake Daylesford, as it has ideal water conditions for swimming, fishing, and paddleboats.
You don't have to get into the water to enjoy the lake atmosphere. It's a very picturesque area surrounded by thick forest. There are hiking trails leading to small waterfalls or scenic overlooks. It's also a great location to hold a family picnic.
Sit out in the green space or use the designated grills available. It's also perfect for children since there is a kid's playground.
3. Drink from the Mineral Springs
Daylesford is abundant with natural mineral springs. Most people are familiar with the springs as a source for spa baths, but did you know that you can drink from the fresh springs? It's the closest thing you might find to the fountain of youth, and there are several springs around town to grab a taste from.
Mineral water is a popular drink sold in stores, but your trip to Daylesford gives you a chance to taste the water direct from the source. And the best part is that it's free!
These are a few of the most popular mineral springs in Daylesford:
Central Spring
Wombat Flat Spring
Mount Franklin
The springs are a fun place to explore to enjoy nature trails and incredible hikes. You'll find spring pumps established at each of the sites that provide free drinking water. Mount Franklin is one of Australia's most popular drinking water brands, and you'll get to taste the water free from the source!
4. Visit Daylesford Sunday Market
You are in luck because when it comes to markets, Daylesford happens to be one of the most popular Sunday markets in Victoria! So if you happen to be in town on a Sunday, be sure to wake up early.
You'll notice Daylesford is even more bustling than usual and with good reason. On Sundays, locals, and tourists head down to the Daylesford station to experience the iconic Daylesford Sunday Market.
The Sunday market is a mainstay in town that has been running for nearly four decades! It's open every Sunday from 8 AM to 3 PM and only closes if it falls on the same day as Christmas.
The family-friendly market features 90 vendor stalls selling everything you could imagine. Shop for fresh produce, treats, clothing, handicrafts, souvenirs, and much more. Or simply hang out at the market to enjoy the Daylesford atmosphere.
Besides the abundance of excellent local produce, there are a few other things to keep you entertained during your time at the market. You can take a ride on the heritage train to see some of the scenic landscape outside of town (kids will absolutely love this) and there is live music from local bands.
5. Lavandula Swiss Italian Farm
Did you know there is a lavender farm in Daylesford? The historic Lavandula Swiss Italian Farm is a popular attraction that offers lots of things to see and do for everyone. Located in Shepherd Flats right outside of Daylesford, you'll come across the 100-acre farm built in the 1860s.
There are vast lavender fields around the farm and visitors can walk through the lavender gardens to smell the fresh aroma and take in the beautiful sights of colorful flora.
Take a tour of the farm and farmhouse to learn about the rich history of the site and the family who lived there. You'll also get a chance to see some of the farm animals roaming around, such as cows, geese, emu, and fowls.
Be sure to check out the gift shop, which sells handicrafts and other products made at the farm. You might even catch an event or festival happening when you visit.
6. Shop at the Amazing Mill Markets, Daylesford
Love to shop? Do include a stop at the Amazing Mill Markets to your Daylesford itinerary. Stepping into this expansive store kind of feels like stepping into Alladin's Cave.
There is an extensive collection of vintage clothes, intricate glass minuatures, jewelry, books, antiques, memorabilia, and much more. You can spend hours here browsing through all the knick-knacks and if you get hungry, there is a nice cafe run by Kathy and Hannah (mother and daughter).
7. Stroll around the city center
Founded in 1852 as a gold-mining town, Daylesford has a nice and very walkable city center. There are many beautiful historic buildings, such as Town Hall (1882) and the Post Office (1867).
Take your time exploring Vincent Street, the main street of Daylesford, and be sure to check out the world-famous Bromley & Co. Gallery. When it comes to boutique shops, Daylesford has its fair share of those as well.
The Empress & Wolf, Harry & Me, and Alpaca Passion are just a few of the charming stores found in the main street.
The best restaurants in Daylesford
One thing you can know for sure: you'll never run out of places to eat in Daylesford during your stay! Daylesford has many exciting restaurant options that you'll be looking forward to trying out.
Many restaurants combine the local charm with fresh, quality food to satisfy you for every meal. Dining in Daylesford will surely be a tasty adventure, below I've listed a few of the many great places to eat in Daylesford.
Lake House
Lake House is one of the most famous restaurants in Daylesford, located inside of the Lake House Hotel with incredible views of Lake Daylesford.
It's an upscale dining experience that prides itself on making everything on the menu in-house. Order from a selection of seafood, choice meats, and a delicious dessert. They also have an extensive wine list.
Harvest Café Daylesford
Harvest Café is one of the best places to eat in Daylesford, especially if you're looking to experience the local flavors. All of the food is sourced locally for organic and vegan options. The casual dining café is perfect for eating brunch in Daylesford.
Cliffy's
Talk to any of the locals, and you'll frequently hear Cliffy's as the most recommended restaurant to have lunch in Daylesford (truth be told: it also serves the best breakfast in Daylesford).
Cliffy's started in the 1950s as a local general store selling farm materials and produce. It evolved into a restaurant while preserving much of its original appearance. Cliffy's is open daily for breakfast and lunch, and you'll find great eats from eggs benedict to fresh salmon.
Cafes in Daylesford
Do you love your morning coffee fix and are you looking for the best coffee in Daylesford? There are also plenty of lovely cafes in Daylesford, for those who love their morning coffee fix.
Daylesford Bakery, Sweet Decadence at Locantro and Splinters Cafe Lake are just a few of the options to grab a tasty cup of coffee in Daylesford!
Top sights in Daylesford: in conclusion
I hope this post has given you plenty of information to plan your trip to Daylesford! From the best things to see and do to where to stay and where to eat in Daylesford.
I am sure you will love Daylesford, you'll delight in the local charm and I'm confident you'll have plenty of reasons to return for another visit!
Looking for more Australia travel planning advice? Also read these post: