Calgary is the largest city in Alberta and while many tourists flying into the city immediately head to the Canadian Rockies, this buzzing city has plenty to offer on its own!
Spend a day in Calgary (or more!) before making your way to the famous National Parks of Banff and Jasper, you won't regret it.
Read about the best things to do in Calgary in summer and have fun planning your Calgary itinerary.
Things to do in Calgary in summer
This post contains affiliate links.
Please read my disclosure policy for more information.
This post is written by Mayuri, the creator behind Canada Crossroads and To Some Place New. She travels with her husband and lives in Canada.
As an Indian-Canadian traveler and a historian (by qualification), she loves to capture historical and cultural nuances from all over the world, especially Europe.
Planning a trip to Calgary: things to know before you go
Summer months in Calgary
Temperatures in Calgary in the summer range from 10°C to 23°C (the summer months are from June to mid-September). Rain is quite frequent during these months, though it rarely rains the entire day.
Currency
The official currency in Canada is the Canadian Dollar ($ or CAD). Here you can find the current exchange rates, at the time of writing €1 is approximately 1,50CAD and $1 is around 1,35CAD.
Travel visa
Travelers to Canada on a US passport staying for less than 180 days don't need visas. European Union nationals are visa-exempt (for up to a six months stay), however, they do need to complete an Electronic Travel Authorisation (eTA) online before boarding a flight to Canada.
Most other nationalities need to apply for a visitor visa from the country of residence prior to arriving in Canada. On the official Canada immigration website, you can easily check which visa criteria apply to you.
How to get around Calgary?
Calgary Airport to downtown Calgary
From YYC Calgary International Airport, the easiest way to reach downtown Calgary is with the Calgary Airport Shuttle. The shuttle leaves every 30 minutes from 8 am until midnight (seven days a week). A one-way ticket costs $15, shuttles leave from Bus Bay 8 on Arrivals Level 1.
Within Calgary city center
Being a metropolitan city, Calgary has a well connected and reliable public transportation network, including buses and light rail trains. Fares for adults start at $3.50 CAD for a single trip. There are also multi-day and monthly passes available for those planning a longer trip to Calgary.
Calgary summer activities: map
Click here for the interactive map.
Calgary things to do in summer
Wander around downtown Calgary
Enjoy summer at the Stephen Avenue Walk
Climb the Calgary Tower (click here to book your ticket)
Bike or walk the Peace Bridge
Admire the River Valley and embark on a RiverWalk
Explore Fort Calgary Historic Site
Visit Calgary Zoo
Step into the past at the Calgary Heritage Park
Enjoy summer drinks at World Bier Haus Restaurant
Find your inner cowboy at the Calgary Stampede
10 excellent summer activities in Calgary
1. Wander around downtown Calgary
Calgary downtown is the delightful core and city center. From sky-rise buildings, state-of-art hotels, fancy restaurants, museums to green spaces, this is the place to be during your summer trip to Calgary. Here are some of the places you must stop by:
Glenbow Museum
Calgary Tower
Fairmont Palliser hotel
Eau Claire Park
Bow Building and the Wonderland sculpture
CORE Shopping center
2. Enjoy summer at the Stephen Avenue Walk
With warm weather outside, there are tons of things to enjoy in the summer months in Calgary. The Stephen Avenue Walk is a pedestrian-only lane in Calgary downtown, lined with cafes, stores, and historical remnants.
Summer months also bring in local artisans and craftsmen to town, along with food festivals and live music! This trendy part of town should definitely be on your summer itinerary for Calgary, regardless of which time of the day you choose to visit, there is always plenty to do.
3. Climb the Calgary Tower
Located in the heart of Calgary downtown is the iconic Calgary tower. It is a 190.8-meter freestanding observation tower with a glass floor…
Pose for Instagrammable photos or take in those amazing street views when standing on the glass floor (if you dare…).
Click here to book your ticket(s) to the Calgary Tower online.
Views from up there are gorgeous! You can get a bird's eye view of the following attractions in Calgary:
Calgary Saddledome
South Saskatchewan River
Downtown skyscrapers
Bow Building and more
The Sky 360 restaurant located inside the Calgary Tower is a perfect place to celebrate your visit to the city (or an anniversary). You will also find a souvenir store on the ground floor of the Calgary tower.
4. Bike or walk the Peace Bridge
The beautiful red and white Peace bridge is a Calgary must do. This iconic bridge features in many Calgary pictures, however, it's actually a relatively new recent addition to Calgary's downtown core (it was finished in 2012).
The Peace Bridge was designed by Spanish architect Santiago Calatrava and is built over the Bow River. During summer months, hop on a bike and enjoy the warm weather. Not into biking? Take a walk, and make your way to the Eau Claire Park and market from here.
5. Admire the River Valley and embark on a RiverWalk
The RiverWalk is a stretch of route that follows along the Bow River in downtown Calgary. During the Calgary summer, it is a perfect time to put on a pair of comfortable shoes and go for a stroll.
Along the RiverWalk, weekly events are organized, ranging from yoga classes, music fests, and fireworks (on Canada Day, which is July 1st). You will also find food vendors and restaurants along the way.
Some of the notable stops at the RiverWalk include St Patrick's Island, Eau Claire Market, Prince's Island Park, National Music Centre, Chinatown, to name a few.
6. Explore Fort Calgary Historic Site
Located very close to downtown is Fort Calgary Park. This historic site features a wooden fort that was built in 1875 by the Northwest Mounted Police.
The admission fee to the site is $12 CAD for adults. Plan to spend at least 2-3 hours here, to learn about Calgary's history and to explore the various exhibits and rooms that display items from that period.
7. Visit Calgary Zoo
Calgary Zoo is one of the premier zoos in the country. The zoo grounds are pretty spread out which allows animals to stay in a natural setting as much as possible.
There is a dino section inside the zoo, which showcases the evaluation and history of the dinosaurs. And with gorillas, lemurs, penguins, and leopard tortoise, visiting the Zoo is one of the best things for kids in Calgary, you can easily spend an entire day here.
The Zoo is easily accessible by Calgary Transit Center (public transportation) and there are tons of parking spaces available for visitors. The entry fee for adults is $24 CAD, you can also purchase a group pass.
Calgary zoo has an ethical set-up to ensure animals are taken good care of. Learn more about it here.
8. Step into the past at the Calgary Heritage Park
Another excellent Calgary summer attraction is the Heritage Park where you can spend an entire summer day. Heritage Park is a living museum, where you can step back in time and discover what Calgary was like from the 1860s through the 1950s.
Inside the park, you can hop on a steam train, visit beautifully preserved heritage buildings, and even take pictures with people from the past! Yes, you can meet and greet with people (employees and volunteers) who dress up in period costumes.
The Gasoline Alley Museum is a popular attraction inside the Calgary Heritage Park and is open all year round (you'll have to purchase a separate ticket for this museum). It has a nice display of pre-1950s cars, automobile-related exhibits, old-timey gas pumps and vintage signage.
Buy a ticket for the Heritage Park | Buy a ticket for the Gasoline Alley Museum
9. Enjoy summer drinks at World Bier Haus Restaurant
Summer in Calgary brings in the patio weather! As winter in Calgary is very cold, during summer locals love to hang out at outdoor cafes and patio dining restaurants.
Our top pick is the World Bier Haus Restaurant, spending a couple of hours here is definitely one of the fun things to do in Calgary at night. Order a burger, pizza, or salad and enjoy one of the many varieties of beer that are on the menu.
Eastside Village and Inglewood also have breweries and cocktail bars that are worth a visit in the evenings in the summer!
10. Visit the Calgary Stampede
If you are lucky enough to travel to Calgary during the Calgary Stampede, this is the Calgary event of the year. Also known as the Greatest Outdoor Show on Earth, this 10 day event is when Calgarians let out their inner cowboy and cowgirl.
The aim of the Stampede is to preserves and celebrate the western heritage, culture, and community spirit of Calgary. There are special family and kids events as well as many shows, both during the day as well as in the evening.
General admission tickets are $18, rodeo and evening shows are ticketed separately. Find all the information you need to plan your visit at the Calgary Stampede website.
Alternatively, if you are not in Calgary during the main event, you can still experience the Stampede spirit and learn about the story of Western Canada, the First Nations, and the origins of the Calgary Stampede during this awesome 2-hour Stampede Park and Wild West tour.
The best day trips from Calgary
Calgary is the perfect base to explore more of Alberta, here are some excellent Calgary day trip ideas. Rent a car and make a road trip to one of the following destinations…
Banff National Park
Located just an hour and a half from Calgary is stunning Banff National Park. Spend an entire day or head there for the weekend.
Summers are a perfect time to explore the outdoors and to go hiking, camping, or canoeing in any of Banff's pristine glacier lakes. For a short Banff day trip, stick around Banff Avenue and take a gondola ride to the summit of Sulphur Mountain.
Drumheller
Located about an hour and a half from Calgary is the land of dinosaur trails and the world-renowned Royal Tyrrell Museum. Drumheller is home to the largest dinosaur figure in the world, as well as a large collection of dinosaur fossils.
Beautiful Badlands Provincial Park is also located near the town of Drumheller and is a nice place to enjoy day hikes or overnight camping from Calgary.
Edmonton
The capital city of Alberta, Edmonton, is 3 hours away from Calgary. Edmonton downtown and the river valley are not to be missed in summer.
Make time to visit the Ledge Grounds (Alberta Legislature Building) and enjoy a free tour of the building (on Thursdays). Don't miss out on the quirky Strathcona neighborhood for dinner and drinks. You will find many Instagrammable walls and restaurants here!
Where to stay in Calgary?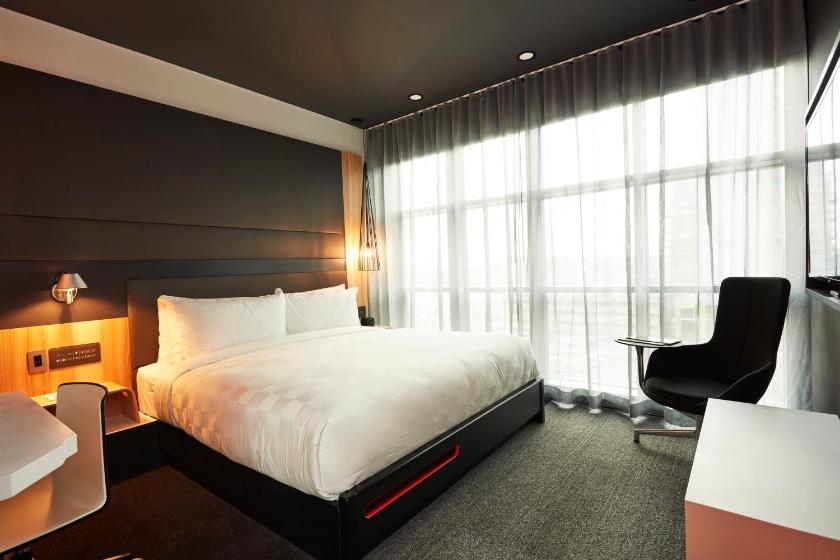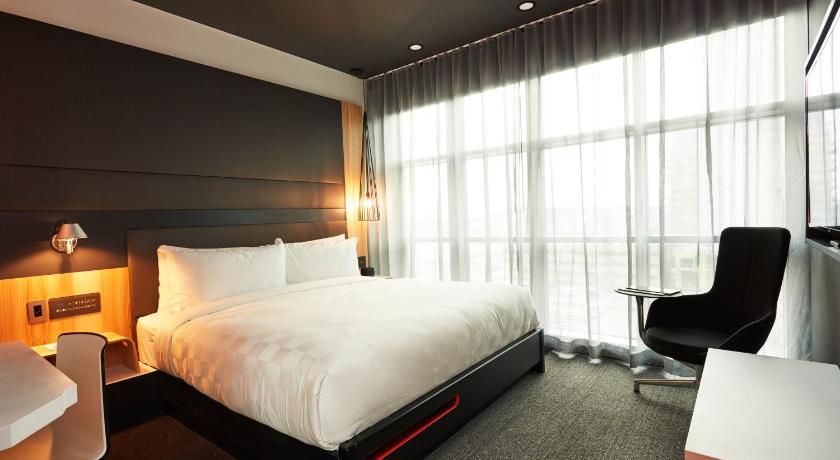 There are lots of accommodation options available in Calgary, suitable for any budget.
Best budget hotels in Calgary
Alt Hotel Calgary East Village: modern, spacious, and in a great location (next to the Bow River). There are a fitness center and an onsite restaurant.
HI Calgary City Centre Hostel: very affordable private rooms with en-suite bathroom in a nice clean hostel with a premium location (only a 2-minute walk from City Hall transit stop).
Best medium-priced hotels in Calgary
Residence Inn by Marriott: with spacious rooms, an exceptional breakfast (included), and a perfect location this is a very nice hotel to spend the night.
Hilton Garden Inn: a lovely 4-star hotel which is centrally located in downtown Calgary. With comfortable beds, coffee making facilities in the room, and courteous staff you'll surely enjoy your stay here.
Best luxury hotels in Calgary
Hotel Le Germain Calgary: a five-star hotel in the middle of downtown Calgary, with spacious luxurious rooms, extensive complimentary breakfast, and an onsite restaurant and bar.
The Fairmont Palliser: last but certainly not least is the beautiful Fairmont Palliser hotel. With a large indoor pool and hot tub, spa, fitness facilities, very comfortable beds, and beautifully decorated rooms the Fairmont Palliser is a wonderful place to stay during your Calgary summer trip.
Where to eat in Calgary?
Breakfast
Try one of the excellent breakfast poutines at OEB Breakfast Co. Poutine is a typically Canadian dish you should taste at least once during your Canada trip. A small warning: poutine is quite a heavy dish and may not be everyone's favorite food to start the day with.
Alternatively, grab a grilled cheese sandwich at Janice Beaton Fine Cheese & Grill or have breakfast at the 1886 Buffalo Cafe at Eau Claire.
For coffee and baked goods, visit Sidewalk Citizen Bakery in downtown Calgary.
Lunch
A great spot for lunch is ZCREW Cafe where all ingredients are locally sourced. Try one of their Incredi-Bowls or one of their dishes with witty names like The Missing Link and Finding Nemo.
End your meal with a prettily decorated cappuccino and you are ready for another afternoon of fun things to do in Calgary.
Dinner
One of the best things to eat in Calgary is Alberta steak. The cows are ethically-raised and the beef is 100% antibiotic-free. Try Alberta steak at one of the restaurants downtown, good places are Caesar's Steak Restaurant & Lounge, Pampa's, and Hy's Steakhouse.
Alternatively, enjoy fine dining at the Fairmont Palliser Hotel restaurant, or Sky 360 (the restaurant at Calgary tower)
What to do in Calgary in summer: in conclusion
I hope you will enjoy your trip to Calgary, the city is beautiful and won't disappoint you! If you have any questions about this Calgary summer itinerary, leave a comment below or send me a message.
Visit my Canada page for more Canada travel inspiration!