Traveling to the Philippines had been a dream of mine for years. To be more precise, since the moment I found out one of my favorite TV shows (Survivor or Expeditie Robinson as it is called in the Netherlands) was recorded there.
Never having traveled outside Europe before and therefore being used to a pretty high price level, I was completely amazed to find out that you can get a whole meal for just 100 pesos (about 2 euros) in the Philippines.
And after traveling around the Philippines, I can confidently say the Philippines are a very budget-friendly destination. Check the post to find out exactly how much it costs to travel in the Philippines.
How much does it cost to travel in the Philippines?
Disclosure: Some links in this post are affiliate links. If you make a purchase through one of these links, I may earn a small commission (at no extra cost to you!). I'm very grateful when you use my links to make a purchase:-).
Travel the Philippines on a budget
The islands I saw on the show were just perfect. Everything you ever imagine about a tropical island.
Palm trees. Coconuts. White sand. Jungle. Clear blue ocean. Colorful fish.
The only thing missing was a hammock, but hey, it's a TV show about survival;-).
I dreamed about going there one day to see such beauty with my own eyes. And after years of dreaming that's exactly what I did!
Have you been dreaming about visiting this amazing country too and are you interested in the costs of backpacking around the Philippines? Keep reading, in this post I'll try to answer all your questions!
Philippines travel budget
In this infographic, you can see a summary of all our expenses in the Philippines.
Facts and figures about our Philippines backpacking budget
I traveled to the Philippines with my husband, and all expenses mentioned are for the two of us together.
Because the exchange rates vary from day to day, I quoted all prices in Philippine pesos (PHP). When we were in the Philippines (February and March 2015) the exchange rate was approximately 50php for €1 and 45php for $1.
In total we spend 56650php (= €1133 = $1259) during our 3 weeks in the Philippines. This comes down to an average of 2833php (=€57 = $63) per day and includes all expenses in the Philippines. As you can see, it's definitely possible to travel to the Philippines on a budget!
This budget breakdown does not include the plane ticket from Hong Kong to Manila and the plane ticket from Manila to Hanoi.
Our Philippines travel expenses are divided into four categories
1. Accommodation: 26% of our travel budget, on average 725php (= €14,50 = $16,10) per day
2. Transportation: 24%, on average 682php (= €13,60 = $15,20) per day
3. Food: 35%, on average 990php (= €19,80 = $22) per day
4. Activities: 15%, on average 436php (= €8,70 = $9,70) per day
1. How much does accommodation cost in the Philippines
Good accommodation doesn't have to be expensive in the Philippines! In total we spend 14500php (€290/$322) on accommodation, averaging 725php (€14,50/$16,10) per day.
We stayed in private rooms with our own bathroom most of the time, sometimes even with breakfast included.
In the table below you can find the places I stayed at (only the ones I recommend), you can find more details about the accommodation in my 3-week Philippines itinerary.
| Location | Hotel | Rating | Price per night | Book |
| --- | --- | --- | --- | --- |
| Batad | Hillside Inn Batad | 7.5 | €11,50/$12,50 | Agoda |
| Cebu City | Skypark Pensionne | 7.4 | €16,5/$18,15 | Agoda |
| Loboc | Fox & Firefly Cottages | 9 | €28/$31 | Agoda | Booking |
| Panglao | Ananda Resort | 7.9 | €25/$27,5 | Agoda | Booking |
| Puerto Princesa | Palawan Village Hotel | 7.6 | €14/$15,40 | Agoda |
| Puerto Princesa | Tia Mers Guesthouse | 7.7 | €11,40/$12,65 | Agoda |
| El Nido | Camp Talusi Hills | 9.2 | €18/$20 | Agoda | Booking |
Note: Prices for these hotels depend on the time of year and how far in advance you book. Therefore, the prices mentioned above are a rough indication of the price per night to help you compare the different options. Check the latest prices on Agoda and Booking and book ahead to get the best deal.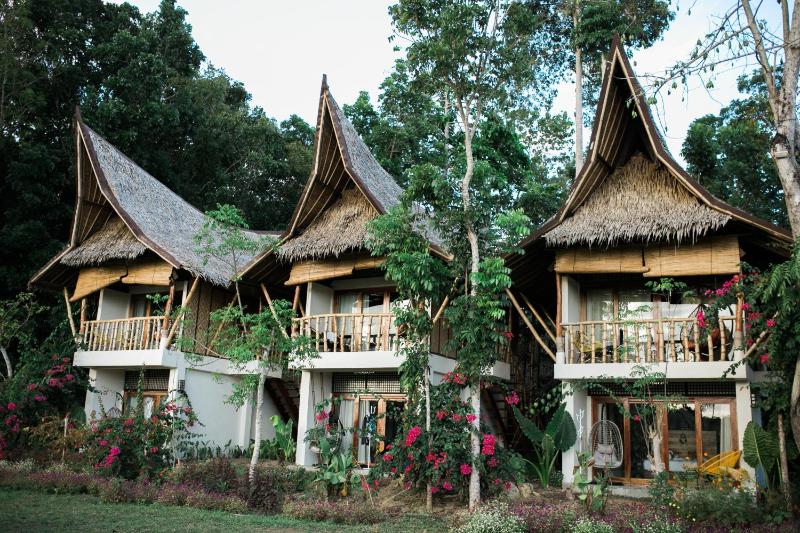 2. How much does transportation cost in the Philippines
In total we spend 13630 (€273/$303) on transportation, averaging 682php (€13,60/$15,20)per day. Transportation costs are split into four categories:
• Flights
• Night bus
• Boat tickets from Cebu to Bohol and vice versa
• Other transportation
Cheap flights
Do you know the beautiful tropical islands I was talking about at the beginning of this post? There are more than 7000 of them in the Philippines!
This means that to get from one place to another, you will have to take a flight every now and then. Enter Cebu Pacific.
They have regular peso sales where you only pay taxes for your flight. Not a bad deal. If you are planning a trip to the Philippines, I strongly suggest keeping an eye on their site because these seats sell out fast.
Night bus
From Manila, we took a night bus to Banaue, a journey of around 355 kilometers. The good thing about taking a night bus is that is saves you a night of accommodation costs and a day of valuable time.
The downside of traveling by bus?
Sometimes a night bus is just a regular bus, meaning you try to sleep sitting up while driving over the bumpiest road ever so your head keeps banging into the window or against the head of your neighbor:-).
Totally worth it though, because the ancient bus did manage to get us to Banaue where we got to hike the incredible rice terraces!
Boat tickets
A small oversight on my part in my research before going to the Philippines was failing to notice that there is an airport in Tagbilaran.
Which lies on Bohol. Which was where we wanted to go. Instead, I booked a flight to Cebu city, meaning we had to take a boat to get to Bohol.
Not a problem, there were plenty of boats. On the way to Bohol, we took a boat from Cebu Pier to Tubigon, costing us 590php.
On the way back we took a boat from Tagbilaran to Cebu Pier at a total price (including luggage and terminal fees, whatever works to get more money from tourists;-) of 1030php.
Other transportation
When writing this post I considered splitting the costs per type of transportation. But then I started counting and realized we traveled with 10 different types of transportation vehicles!
Yes, I was pretty amazed too! You already know about planes, night buses, and boats. We also traveled in a jeepney, a tricycle, taxis, a public bus, a minivan, a scooter, and last but not least: a private car.
You already know about planes, night buses, and boats. We also traveled in a jeepney, a tricycle, taxis, a public bus, a minivan, a scooter, and last but not least: a private car.
3. The cost of food and drinks in the Philippines
In total we spend 19800php (€396/$440) on food, averaging 990php (€19,80/$22) per day. After cooking our own meals for 6 weeks in New Zealand, eating out three times a day was a nice change.
Mind you, I did get sick, like pretty much anyone traveling to Asia for the first time, but only for a couple of days.
I have to admit, the Philippines was not my favorite food country in Asia. It's not as varied and spicy and incredibly delicious as the food in Vietnam. Or Malaysia. Or Thailand.
Hmm, I'm getting hungry just thinking about all these delicious cuisines. Nevertheless, we ate some really good food as well, particularly at Oasis Resort and Seaquest Divers on Alona Beach (Panglao).
4. Price of activities in the Philippines
Last but not least, we spend 8720php (€174/$194) on paid activities, averaging 436php (= €8,70 =$9,70) per day. We did three main activities:
• A three-day hike in Banaue (4240php for two people)
• Tour A and tour C in El Nido, Palawan (3600php for two people)
• Sightseeing on Bohol (880php for scooter rent and some entry fees)
Important note: we did a PADI Course in El Nido. I did not include those costs in the budget breakdown because I feel this would not be a fair representation of the daily costs as not everyone will go diving.
Plan your Southeast Asia trip like a pro with these tools:
✈️ Find the best flight deals on Kiwi.com.
🚌 Book your transport tickets (train, bus, ferry, minivan, and more) via 12Go.Asia
🛏️ Find your dream accommodation on Booking.com or Agoda.
😎 Book the best tours with Klook and Get Your Guide.
📖 Plan your journey with the Lonely Planet.
🗺️ Travel safely and get reliable travel insurance from Safety Wing.
Philippines budget trip: in conclusion
Now you know all about the costs of traveling to the Philippines. I had an amazing time and it completely lived up to my tropical island vision, so I totally recommend going there!
Below you can download the budget breakdown infographic. If you have questions, leave a comment or send me a message.
This post was updated in August 2022.