Kyoto is one of the most popular places to visit in Japan and with good reason! From beautiful temples to historic neighborhoods and the famous Fushimi Inari-Taisha Shrine, Kyoto is a magical city and a must-do on any Japan itinerary.
It's not easy to choose from the many different things to do in Kyoto and narrow down a feasible Kyoto 2 day itinerary.
That's why I wrote this post, to help you make the most of your trip to Kyoto!
Kyoto 2 day itinerary and city guide
Disclosure: Some links in this post are affiliate links. If you make a purchase through one of these links, I may earn a small commission (at no extra cost to you!). I'm very grateful when you use my links to make a purchase:-).
Things to know before traveling to Kyoto
What is the best time to visit Kyoto?
Spring (March/April) and autumn (October/November) are the best (but also the busiest) times to visit Kyoto. As summers are quite hot and very humid I wouldn't recommend traveling to Kyoto between June and August.

If you don't mind cold weather, winter can be a magical time to visit Kyoto and you can find great accommodation deals as this is the low season.
Which currency is used in Kyoto?
The official currency in Japan is the Japanese Yen (¥). Here you can find the current exchange rates, at the time of writing €1 is approximately 120¥ and $1 is around 110¥.
What is Kyoto famous for?
For over a thousand years, Kyoto was the capital of Japan and the seat of the Emperor. Because of this rich history, Kyoto is home to countless beautiful temples and shrines.
How to get around Kyoto by public transport?
The cheapest (and easiest) way to travel around Kyoto is by bus, you can buy a Kyoto city bus all-day pass, ticket prices and more information can be found here.

This all-day bus ticket gives you unlimited rides within the area on the bus map and that area covers pretty much all the major highlights in Kyoto.

The Kyoto bus station is located in front of the train station, this is also where you can find the bus ticket information center. The information center staff will gladly provide you with a city map and a bus map.
Where to stay in Kyoto
In the table below you can find my Kyoto accommodation selection, suitable for any budget.
Note: Prices for these hotels depend on the time of year and how far in advance you book. Therefore, the prices mentioned above are a rough indication of the price per night to help you compare the different options. Use 'click here' to see the latest prices on Booking.com and book ahead to get the best deal.
Carta Hotel Kyoto Gion ☆☆☆
Carta Hotel Kyoto is a clean and modern hotel in Gion that offers comfortable beds and a private bathroom with a Japanese toilet (yes, one with lots of buttons).
The hotel is centrally located and there is a bus stop just a few steps from the hotel.
Room rates are usually less than €50 a night. A pretty sweet deal for such a well-reviewed 3-star hotel in one of Japan's most popular tourist destinations!
Be sure to book ahead, this hotel is often sold out.
OneFive Kyoto Shijo ☆☆☆☆
The OneFive Kyoto Shijo is a stylish hotel and an excellent place to stay in Kyoto. It's only a 3-minute walk to Omiya Station and Shijo Omiya Station and across the hotel, there is a bus stop, making it very easy to get around the city.
Rooms are spacious, have spotlessly clean bathrooms, and are nonsmoking (which surprisingly isn't always the case in Japan). The is a coin laundry (second floor) and free coffee is available in the lobby.
Auberge AZABU ☆☆☆☆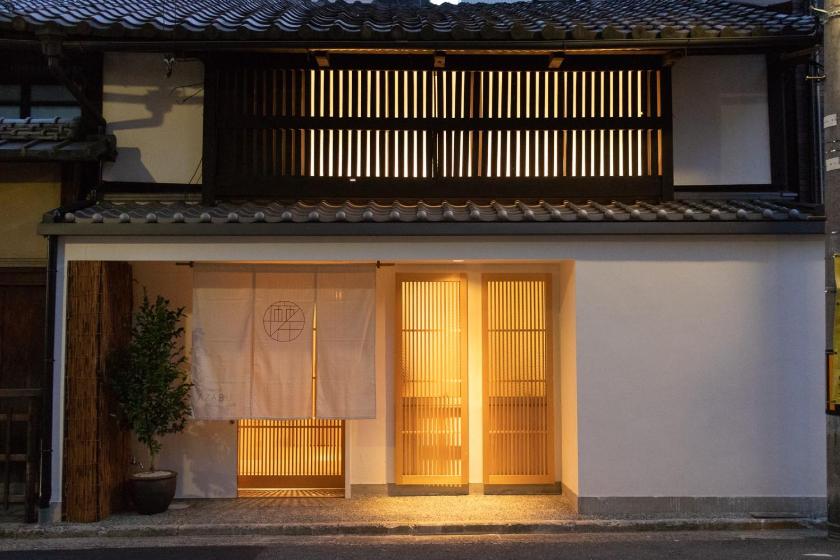 Auberge AZABU is quite possibly the best boutique hotel in Kyoto. It's the perfect combination of modern design in a historical building.
The attentive staff, excellent dining opportunities (breakfast is delicious as well), central location, and great attention to small details make this a great place to stay in Kyoto.
The best things to do in Kyoto
As the cultural capital of Japan, there are plenty of attractions to visit in Kyoto. In fact, there is so much to see that it can be difficult to decide where to go if you have only two days in Kyoto…
Below you can find my list of the best places to visit in Kyoto, it's a mix of ancient temples and other Kyoto highlights, and will help you plan an awesome Kyoto sightseeing itinerary.
You can download this list at the end of the post.
The perfect 2 day Kyoto itinerary: map
Click here for the interactive map
The 10 best things to do in Kyoto in 2 days
Wander through Ayashima Bamboo Forest
Walk the Philosophers Path
Visit the Honen-in and Nanzen-ji Zen Buddhist temples
Stroll through the streets of historic Gion
Explore Pontocho street
Marvel at the Kinkakuji Temple (the Golden Pavilion)
Buy quirky foods at Nishiki market
Have a picnic in the Imperial Palace Park
Climb to the top of Kyoto station
Walk under the thousands of vermilion Torii gates at Inari Fukushi
Kyoto itinerary day 1
Wander through Ayashima Bamboo Forest
Wondering how to avoid the crowds in Ayashima Bamboo Forest?
Get up early.
Very early…
In the early morning (before most tourists arrive) Ayashima Bamboo Forest is a really nice and relaxing place!
Personally, I had never seen a bamboo forest before in my life, it was very different from the pine tree and broadleaf forests in my home country (the Netherlands).
Ayashima Bamboo Forest is a lovely place to explore, especially early in the morning when you've (almost) got the entire place to yourself.
Take your time exploring this magical place in Kyoto, but as more and more people arrive it's time to head to your next destination.
Walk the Philosophers Path
Let your mind wander while walking the Path of Philosophy (Tetsugaku-no-Michi in Japanese).
You can find this lovely pedestrian street in Northern Higashiyama, and you'll be surprised by how quiet and peaceful this pretty path is!
Walking through this green tunnel I almost felt like I was in a small village instead of a city with 1.5 million residents.
Visit the Honen-in temple (and garden)
Along the Philosopher's Path, you'll come across many temples. We visited one of those temples, the Honen-in temple. I particularly loved the green garden.
Visit Nanzen-ji Zen Buddhist temple
Ginkakuji temple is more famous than Nanzen-ji, however, there are also a lot more people at Ginkakuji which is why I recommend visiting Nanzen-ji instead.
Nanzen-ji is a beautiful temple that was founded in 1291. The wooden structures are impressive and made with incredible attention to detail.
Take a stroll around historic Gion
Subsequently, head to Gion, the historic district of Kyoto. You can easily spend a few hours getting lost in the quaint little streets lined with old (wooden) buildings!
This is Kyoto's geisha district and if you are lucky you may see a geisha as she walks to her appointment.
A common but severe misconception is that geishas are prostitutes, which most certainly isn't true! In fact, geishas are highly respected in Japan and it's very difficult to become one.
There are many cafes, restaurants, and traditional teahouses in Gion as well. It's best to visit as night begins to fall, small lanterns will be lit everywhere and it will feel like you've stepped into another world.
Visit Pontocho street
Don't forget to pay a visit to Pontocho street, one of the most atmospheric streets in Gion.
Pontocho Street is a narrow street running from Shijo-Dori to Sanjo-Dori and is lined with beautiful wooden buildings.
If you have more time in Kyoto, also visit the Kiyomizu-dera Temple. This World Heritage site on Mount Otowa offers magnificent views over Kyoto.

Or, if you only have a day, check out this one day Kyoto itinerary to make the most of your limited time in this beautiful Japanese city.
Kyoto itinerary day 2
Marvel at the Kinkakuji temple (the Golden Pavilion)
Another relatively early start, as you want to make sure to be at Kinkakuji temple on time. Kinkakuji is also known as the Golden Pavilion and definitely a Kyoto highlight.
We arrived at 8.30 am and even though the gates only opened at 9 am, a crowd had already gathered! At 9 am exactly (the Japanese are very punctual!) the gates were opened and we got to admire the beautiful Golden Pavilion.
While Kinkakuji Temple is the main attraction, the surrounding gardens are lovely as well. Make sure to allow yourself plenty of time to stroll through the beautiful and typical Japanese gardens.
Buy quirky foods at Nishiki market
Be prepared when visiting the Nishiki Market, I was astonished by the number of strange and unfamiliar foods on display. I still don't know what the food in the left picture is, perhaps sea cucumbers?
In any case, be sure to try out some samples handed out by the vendors and buy some snacks for a picnic at the next stop on your Kyoto itinerary!
The Imperial Palace Park
Visit the Imperial Palace Park, a nice green area where you will see many Japanese families having a picnic or playing with their children.
This is a great place to eat the snacks you bought at the Nishiki market and relax for a bit before continuing your Kyoto travel itinerary.
Admire the view over Kyoto (and the Kyoto Tower)
Kyoto station
Kyoto station is the second-largest station in Japan and has an imposing structure.
This beautiful building was finished in 1997 and commemorates Kyoto's 1200th anniversary. Almost 125.000 people pass through Kyoto station on a daily basis.
Kyoto Tower
Make sure to go up to the roof of the Kyoto station, you will have a great view of the city and of the Kyoto tower in front of the station.
Walk under the thousands of vermilion Torii gates at Inari Fukushi
One of Kyoto's must-do activities is visiting the famous Inari Fukushi shrine, known for its thousand vermilion Torii gates.
Following the path below the Torii gates is something I had been dreaming about since I booked our tickets to Japan. It was indeed very special to walk below the many gates…
This will definitely be a highlight of your Kyoto trip!
To avoid most of the crowds, visit early in the morning or late in the afternoon.

Also, if you hike to the top of the mountain (2-3 hour return) you will lose most tourists within the first hundred meters of the trail and have all the intriguing vermilion gates to yourself.
Where to eat in Kyoto
I spent a lot of time in Japan eating because Japanese food is absolutely delicious… Below you can find some of the dishes I ate during my time in Kyoto.
I have to admit we had a craving for Indian food while we were in Kyoto and ended up eating Indian for lunch two days in a row…
Abura soba
Where to eat this: Aburasoba Nekomata, 〒605-0862 Kyōto-fu, Kyōto-shi, Higashiyama-ku, 清水4丁目138, +81 75-551-5088
Price: ¥700
Where to eat this: Kerala, 〒604-8006 Kyōto-fu, Kyōto-shi, Nakagyō-ku, Shimomaruyachō (Kawaramachidōri)
Price: ¥900 for the set lunch menu
Where to eat this: Ganesha, 〒603-8357 Kyōto-fu, Kyōto-shi, Kita-ku, Hirano Miyanishichō
Price: ¥900 for the set lunch menu
Ramen
Where to eat this: 14 Hirano Miyakitachō, Kita-ku, Kyōto-shi, Kyōto-fu 603-8352, +81 75-462-3737
Price: ¥600 (+ optional toppings, between ¥50 – ¥100)
Kyoto on a budget
A Kyoto holiday doesn't have to break the bank, it's definitely possible to visit Kyoto on a budget.
My husband and I spent an average of ¥9410/€75/$85 per day as a couple. Our expenses in Kyoto are divided into 4 categories:
Accommodation: 37% of our costs
Transport by bus: 11% of our costs
Food & drinks: 49% of our costs
Activities: 3% of our costs (the only activity we paid for was Kinkakuji temple, the rest of the activities we did were free!)
Plan your Japan trip like a pro with these tools:
🚅 Get a Japan Railpass to save lots of time and money.
🚗 Rent a car for your Japan road trip via Rentalcars.com.
📱 Stay connected with a Japan SIM card.
📖 Plan your journey with the Japan Lonely Planet.
🛏️ Find the best hotel deals on Booking.com.
😎 Join the best tours in Japan via Get Your Guide.
🗺️ Travel safely and get reliable travel insurance from Safety Wing.
What to do in Kyoto: in conclusion
I hope I have convinced you to visit Kyoto in 2 days, it's a wonderful city and definitely worth a trip!
Though admittedly, you could easily spend a week in Kyoto if you have the time, there is much more to see and do…
Do you want to read more about traveling in Japan? Also read my other Japan posts:
This post was updated in August 2022.