Cambodia is a fascinating country in Southeast Asia. Its most famous attraction is without a doubt Angkor Wat, but there is much more to see in Cambodia.
From tropical islands like Koh Rong in the south to the mighty Mekong Delta in the north. And from the small but interesting villages Kampot and Kep to the rapidly developing capital city Phnom Penh.
This Cambodia 1 week itinerary includes Kampot, Phnom Penh, and Siem Reap. If you have more time to spend in Cambodia, this post includes several other recommended places to visit in Cambodia as well (Koh Rong, Kampong Chhnang, and Battambang).
This post contains affiliate links.
Please read my disclosure policy for more information.
Cambodia 1 week itinerary
One week Cambodia itinerary: map
In the map below you can find our recommended itinerary in Cambodia, accommodation, and highlights.
Click here for the interactive map
7 day Cambodia itinerary
Day 1-2: Kampot and around
Day 3: Kampot to Phnom Penh
Day 4-5: Phnom Penh
Day 6-7: Siem Riep and Angkor Wat
What's it like to visit Cambodia
For many people, the first thing that comes to mind when thinking of Cambodia is Angkor Wat, one of the largest temple complexes in the world. While Angkor Wat was definitely a highlight of our 5-month trip, I did not find Cambodia an easy country to visit.
Cambodia went through a very dark period in the 1970s when the Khmer Rouge was in charge and approximately 1/3 of the Cambodian population was killed. When traveling around Cambodia, you will feel the lasting impact the terrible Khmer Rouge regime had on the country and its people.
Visiting the Choeung Ek Killing Fields and the Tuol Sleng museum in Phnom Penh is horrible, though it should be on anyone's itinerary when in Cambodia. It's important to learn about the history of a country, no matter how heartbreaking it may be…
That being said, I enjoyed our time in Cambodia very much. Cambodians are very kind people and the food is delicious. Getting around is easy and there are plenty of things to do in Cambodia, from visiting the ancient temples of Angkor Wat to hiking in Kep National Park.
Important things to know when planning a trip to Cambodia
Which language is spoken in Cambodia?
About 90% of the people in Cambodia speak Khmer. While French is also an official language, I didn't come across many Cambodians who spoke French.

In the most popular tourist places, people generally speak (basic) English. But even when someone doesn't speak English, most Cambodians will go out of their way to help you anyway.
Which currency is used in Cambodia?
While the official Cambodian currency is the Riel, you're often charged in US dollars. For payments smaller than $1 you'll receive change in Cambodian Riel ($1 is 4000 riel). Here you can find the current exchange rates.
When is the best time to visit Cambodia?
Cambodia has two distinct seasons, a dry and a rainy season. The best time to go is during the dry season, which runs from November until April.

We visited in April and while Cambodia is pretty warm all year, April is generally the hottest month.
How much money do you need a day in Cambodia?
The short answer is around $70 a day as a couple if you travel on a budget. To stay within this budget: stay at low-cost accommodation, use public transport (and your own feet within cities), eat street food, and only drink an occasional beer.

If you want to know more about the costs of traveling in Cambodia, check out my Cambodia budget post!
What should I wear in Cambodia?
As in many countries in Southeast Asia, you should dress modestly! For women, this means not wearing any tops that reveal too much cleavage or don't cover your stomach. Avoid wearing miniskirts, hot-pants, yoga pants or other tight clothing.

I always bring a scarf so I can cover up in temples or stay warm in a heavily air-conditioned bus or van.

For men, appropriate attire is a blouse or shirt. Shorts are fine, though local men almost always wear long pants.

When visiting temples or other attractions in Cambodia, carefully check the dress code to avoid being refused at the entrance.
1 week Cambodia itinerary
Day 1-2: Kampot and around
Kampot is a small and laid-back village in Southeast Cambodia. It's a lovely place to visit and, especially when coming from the south of Vietnam, makes for a logical stop on your Cambodia 7 day itinerary. Below you can read more about the best things to do in Kampot.
Have breakfast at the Epic Arts Café
A perfect way to start your day is by heading to the Epic Arts Café for breakfast or brunch. This wonderful cafe serves up delicious food and provides jobs for deaf and disabled people (who work at the cafe).
I highly recommend the Banana and Cocoa Pancakes as well as the Tuna Melt Panini.
Visit Kep National Park
Another place to add to your Kampot itinerary is Kep National Park, where you can go for a short hike through the jungle.
The staff from the Led Zep cafe have created an 8km jungle trail and they work tirelessly to maintain the track and keep it free from trash. It's a nice and easy hike, the bright yellow signs make it impossible to get lost.
While hiking the trail, we spotted a couple of monkeys as well as some creepy crawlers. There are several viewpoints along the way, you can see Kep village (which is also worth a visit if you have 3 days in Kampot!) and on a clear day, may even be able to spot Vietnam in the distance!
Catch a movie at Ecran Movie House
Another Kampot activity I highly recommend is watching a movie at the Ecran Movie House. At this tiny 'cinema' you get to choose your own movie and watch it in your private 'cinema room'.
We watched 'The Killing Fields', which is a very impressive movie about the horrors the Khmer Rouge regime visited upon Cambodia from 1975-1979.
If you prefer to see something lighter, that's possible as well. Ask the friendly staff about the movies they currently have in their collection.
Visit the ghost town Bokor Hill Station
Bokor Hill Station is an abandoned ghost town in the mountains near Kampot. It's a creepy place, with empty and dilapidated buildings and a bit of a mysterious atmosphere.
The complex was built in 1920 by the French, as a place to escape hot and humid Phnom Penh. The complex was abandoned by the French during the First Indochina War in the 1940s but reopened in 1962 when a casino and several other buildings were added.
In 1972 Bokor Hill was once again abandoned, as the Khmer Rouge took over the area and until the 1990s Bokor Hill Station served as a stronghold for Khmer militias. Since they left, the buildings have been completely deserted and are slowly crumbling to dust.
Bokor Hill Station is about 40km from Kampot and can be done in half a day. The toll road (2000 riel) is in excellent condition and easy to drive. If you also want to visit the nearby Povokvil Waterfalls and stop at Bokor Lake you could easily spend an entire day exploring the area.
Important note: make sure you have enough fuel! There is a petrol station at the foot of the mountain (just before you have to pay toll).
Make sure you bring a jacket, Bokor Hill Station is located in the mountains and temperatures are much lower than in Kampot.
Click here for the interactive map
How to get around in Kampot
You can hop in one of the many tuk-tuks, or you can rent a scooter. If you are staying at the lovely Bohemiaz resort (read more below) you can rent a scooter from the supermarket next door for only $5 a day.
Especially for the visit to Bokor Hill Station, I'd recommend a scooter, the road leading up the mountain is beautiful, well-maintained and easy to drive!
I loved our stay at Bohemiaz resort, it was one of my favorite hotels of our 5-month trip. This cute little resort offers a gorgeous view of the mountains, a swimming pool, and several super comfy chairs and hammocks to relax and enjoy a drink.
The British owners, Brian and Michelle, make you feel at home and are very helpful. They helped us arrange our motorbike rental ($5 a day at the supermarket next door), the bus to Phnom Penh, and a tuk-tuk to Kampot city center.
Bohemiaz is also a great place to meet other travelers and ex-pats. And the food is delicious! The menu is a mix between Western and Khmer dishes, good prices and large portions.
The only slight downside: it's not within walking distance of Kampot center, so you'll either have to arrange a tuk-tuk or rent a scooter to get to town.
Altogether a highly recommended place to stay in Kampot, we were sad to leave!
Check prices on Agoda | Check prices on Booking
Day 3: Kampot to Phnom Penh
| From | To | By | Cost |
| --- | --- | --- | --- |
| Bohemiaz Resort | Giant Ibis Office Kampot | tuktuk | $4 |
| Giant Ibis Office Kampot | Giant Ibis Office Phnom Penh | bus company | $11 per person |
For anyone wondering how to get from Kampot to Phnom Penh, don't worry, it's an easy and comfortable journey.
We took the Giant Ibis bus, you can book tickets online or ask the staff from your accommodation for help. Giant Ibis was one of the better bus companies I traveled with during our three months in Southeast Asia.
Buses are modern, generally leave on time, and don't stop along the way to pick up (more) people. The bus journey from Kampot to Phnom Penh usually takes 4-5 hours and costs $11 per person.
There are two departures a day, one in the morning and one in the afternoon. Please check the schedule at the Giant Ibis website for more information.
Day 4-5: Phnom Penh
Phnom Penh is the capital of Cambodia and home to 1.5 million people. It sits at the junction of the Mekong and Tonlé Sap rivers and has rapidly developed in the past decade.
Highlights in Phnom Penh are the Royal Palace and the Silver Pagoda, however, the most impressive (and toughest) places to visit are the Tuol Sleng Genocide Museum and the Choeung Ek Killing Fields, where you'll learn more about the horrors of the Khmer Rouge regime.
Tuol Sleng Genocide Museum
The Tuol Sleng Genocide Museum is located in a former secondary school that was used by the Khmer Rouge regime as one of its prisons. Between 1976 and 1979, approximately 20.000 people were imprisoned here, though the exact number is unknown.
Be aware this isn't an easy place to visit and it's not a suitable place to visit with (young) children. On display are shocking photos and terrible stories from former prisoners, as well as the pictures of thousands of people who spend their final days at S-21.
The entrance fee for the Tuol Sleng prison is $5 per person ($8 including audioguide). You can find the museum on the corner of Street 113 and Street 350. A tuk-tuk from the city center should cost between $3-$4.
Choeung Ek Killing Fields
The Choeung Ek Killing Fields is another terribly sad but important place to visit in Phnom Penh. During the Khmer Rouge regime, approximately 20.000 people (men, women, children and even infants) were executed here.
The informative audio guide will help you understand more about this place, where so many innocent people were murdered… There are several communal graves, as well as the 62-meters-high Memorial Stupa where more than 8000 skulls are visible behind large glass panels.
The entrance fee for the Choeung Ek Killing Fields is $6 per person (including the audio guide). It's about 17 km from the center of Phnom Penh, so you'll either need to rent a scooter or hop into a tuk-tuk to get there (the price for a return trip should be around $15).
Visit the Royal Palace and the Silver Pagoda
The Royal Palace is one of the most beautiful buildings in Phnom Penh and until today it's the official residence of the King of Cambodia. That's why, unfortunately, only a limited section of the complex is open to the public.
Nevertheless, there is plenty to see! From beautifully manicured gardens to glimmering stupas and the impressive Throne Hall (pictures inside this room are not allowed), The Royal Palace is a must-visit in Phnom Penh.
Located next to the Royal Palace is the Silver Pagoda, which received its name for the 5000 silver tiles that cover the floor. To avoid disappointment: know that you can't actually see all 5000 tiles, most are covered for protection (though some tiles at the entrance of the pagoda are visible).
Besides the silver tiles, there are the beautiful Emerald Buddha, a life-sized 90 kg golden Buddha covered in diamonds, and a bronze and silver Buddha statue. All in all, enough reasons to visit the Silver Pagoda.
Please note that there is a pretty strict dress code at the Royal Palace: shorts or skirts above the knee are not allowed and neither are strap tops and tank tops. Remember to bring a sarong or a long sleeve t-shirt to wear inside the complex!
The opening hours for both the Royal Palace and Silver Pagoda are rather limited, from 8-10:30 am and from 2–5 pm (4.30 pm on Fridays). A ticket for the Royal Palace costs $10 per person, entry to the Silver Pagoda is included in this ticket.
It's worth hiring a guide if you want to learn more about the history of the complex and the Royal family as there aren't a lot of information signs. Alternatively, you can book this Phnom Penh city tour which includes a guide as well as transport and entrance fees to the places included in the tour.
Where to stay in Phnom Penh
On a budget (less than $20 a night): Diamond Palace II
We stayed at the Diamond Palace II, located across the Royal Palace. The bed was comfortable and there were tea and coffee making facilities in the room, as well as complimentary mineral water and a small fridge.
The staff was friendly and rented us a scooter for $7 for a day. A good budget hotel in Phnom Penh!
Check prices on Agoda | Check prices on Booking
TAO Riverside Residence is one of the most booked properties in Phnom Penh, which isn't surprising as they offer excellent value for money.
Located on the Sisowath Quay Riverside strip, the TAO Riverside Residence offers beautifully designed studios and suites with splendid views of the Tonle Sap and Mekong Rivers.
Studios have a seating area as well as a kitchenette and a balcony with river views. The sleeping area has a large comfortable bed and the modern bathroom is fitted with a rain shower and bathtub.
Check prices on Agoda | Check prices on Booking
If you are looking for a 5-star hotel in Phnom Penh that won't break the bank, the Palace Gate Hotel & Resort is the place to stay. Set in a restored French colonial villa, this hotel is the perfect getaway after a day of sightseeing in Phnom Penh.
With a lovely outdoor pool, an onsite restaurant serving excellent food and a rooftop bar where you can enjoy a drink and the splendid Royal Palace view (especially around sunset), you'll be more than comfortable here during your stay.
Check prices on Agoda | Check prices on Booking
How to travel from Phnom Penh to Siem Reap
| From | To | By | Cost |
| --- | --- | --- | --- |
| Giant Ibis Office Phnom Penh | Siem Reap bus station | night bus | $16 |
| Siem Reap bus station | Siem Reap city center | foot | free |
| Siem Reap city center | Natural Khmer Angor Villa | tuktuk | complimentary with hotel stay |
The distance between Phnom Penh and SiemReap is 320km and nowadays a bus trip takes approximately 6 hours. We took a night bus and while the trip was fairly comfortable, I didn't sleep very well because of the bumpy road.
However, that was several years ago and since then major road improvements were carried out between Phnom Penh and Siem Reap, which have resulted in a faster and more comfortable journey.
A bus ticket from Phnom Penh to Siem Reap with Giant Ibis costs $16, you can book online. At the time of writing, there are 3 daily departures, one at 8.45 am, one at 9.45 am and one at 12.30 pm.
The Giant Ibis bus terminal in Siem Reap is located about 2 kilometers from the city center of Siem Reap. You can walk to town in about 30 minutes or take a tuk-tuk.
Day 6-7: Siem Reap and Angkor Wat
Siem Reap is the gateway to Angkor Wat, one of the most famous and ancient temples complexes in the world. However, Siem Reap itself has a lot to offer as well! There is an abundant amount of authentic Khmer restaurants, arts and crafts shops, and traditional markets.
Visit Artisans Angkor
Artisans Angkor is a great place to check out if you are interested in locally-made works of art, such as jewelry and silkwear.
Artisans Angkor was founded with the goal to create sustainable jobs for young people in rural areas, while simultaneously reviving traditional Khmer craftsmanship.
Learn about the history of Angkor Wat at the Angkor National Museum
Angkor National Museum is a good place to visit before exploring Angkor Wat itself. The museum explains about the Khmer Kingdom and civilization, there are also many ancient artifacts on display. Tickets are $12 per person, plus $3 for an audio guide.
Watch the sunset from Phnom Bakheng
A 20-minute walk along a shady path will bring you to the top of Phnom Bakheng, one of the best spots to watch the sunset.
You will need a ticket for Angkor Archaeological Park to visit Phnom Bakheng, however, when you enter after 5.30 pm the staff won't clip your ticket as visiting after this time of day is free.
You will need to purchase a pass to visit Anchor Wat the following day anyway and this way you can enjoy a spectacular sunset for 'free'.
Explore Angkor Wat
Angkor Wat is a magnificent and very impressive complex. You can spend days exploring the many temples and ruins within the expansive area, though it's possible to visit the main highlights in a day.
Don't miss the Bayon, with its many stone faces resembling King Jayavarman VII (one of the rulers of the Khmer Empire), the lesser-visited but beautiful Baphuon, and of course, Ta Prohm, the jungle temple with massive trees embracing the ancient buildings with their roots.
Important things to know when planning a visit to Angkor Wat
You can buy a pass to the Angkor complex for one day ($37), three days ($62), or 7 days ($72). A photo will be taken at the ticket booth and printed onto your entree pass. The ticket booth is located on the main road from Siem Reap to the Angkor Wat complex.
I recommend exploring the huge complex by tuk-tuk. We paid Mr. Shea, our tuk-tuk driver, $22 (excl. tip) for a day, including a 4 am pick-up from our hotel to be one time to watch the sunrise.
Final tips when visiting Angkor Wat
Bring lots of water with you, it gets very hot during the day! Also bring along a snack, while there are restaurants and shops within the complex, none are located near the temples. And believe me, you'll need some extra energy to climb those steeps stairs…
Take a scarf and wear appropriate clothing, it is a temple complex after all.
Tip your tuk-tuk driver (generously). They work hard and you can easily spare those couple of bucks.
Overflow Guesthouse is a good budget place to stay in Siem Reap. Rooms are spacious with comfortable beds, a small fridge, and free mineral water. The hotel staff is friendly and happy to arrange an Angkor Wat tuk-tuk tour for you.
There is a swimming pool and free bikes available, which make it easy to cycle to town (about 10 minutes by bike).
Check prices on Agoda (not available on Booking)
If you have more time in Cambodia…
If you are lucky enough to have more time to spend in Cambodia, there are several places worth adding to your Cambodia travel itinerary.
Below you can find more information about Koh Rong, Battambang, and Kampong Chhnang Village at the Tonle Sap Lake.
Koh Rong
Lee from The Travel Scribes: pristine white beaches, Colgate-coloured waters, and lush tropical jungles, Koh Rong and its sister island, Koh Rong Sanloem, is the stuff that island dreams are made of. This Cambodian island is by no means deserted but still retains some of its remote charms.
Koh Rong is an idyllic place to spend a few days sunbathing, sinking cocktails and taking in the epic pink and purple sunsets. The island is actually the second largest island in Cambodia (after Koh Kong).
Over the last few years, it has become a magnet for backpackers and travelers, making Koh Rong a bit of a party island (albeit still with lots of beautiful places to spend downtime during the day).
With waterfalls, beaches and a slew of bars and restaurants on offer, Koh Rong has a lot of offer for a small island. Covered in jungle and with its fair share of hills, you can spend your time hiking through the trees, lazing on the many beaches and even taking a turn on the island's zip line!
Accessed through seaside Sihanoukville, it's a bit of trek to get out to Koh Rong. As Sihanoukville is currently the only jumping-off point for the ferry, you are forced to transit through this formerly idyllic backpacker haven turned casino-ridden, over-developed town.
It's usually a shaky start to your Koh Rong experience, as Sihanoukville's ferries are often late and mismanaged. But once you've dipped your toe into the Koh Rong waters on the other side and made it to your island resort, you'll be glad you suffered the journey to this utopian outpost.
While you can easily spend all your time relaxing on one of the beautiful beaches, there are other things to do on Koh Rong as well!
Hike to Long Beach
It's like a rite of passage for Koh Rong: tearing your way from the main strip of Koh Toch through the jungles and out the other side to a gorgeous stretch of white sand beach.
While it has been done in flip flops before, it's advised to do this jungle trek in sturdy shoes, since its more difficult than you expect! And, if you don't want to head back through the forest, you could always grab a longtail boat to deposit you back at the harbor.
Cool off in a kayak
The waters around Koh Rong are relatively calm, making them great for novice kayakers wanting to see more of the island.
Rent a kayak for a few dollars, pull on your life jacket and navigate to beaches like Police Beach, or the mangrove-choked area of Long Set; you could even find yourself stretched out on a deserted bit of beach for the day!
Paddle out with plankton
It's the experience of a lifetime: waiting for dark to fall and wading out into the sea, as bright blue luminescent plankton almost extends from your fingertips.
This naturally-occurring phenomenon is something incredibly special and a must-do experience on Koh Rong, as you are surrounding with glittering plankton, with the moon shining brightly above you.
Where to stay on Koh Rong
The Small Guest House is a lovely place to stay for travelers on a budget. The friendly owners are both teachers at the local school and simultaneously run their little B&B.
The room is large and spotlessly clean, with a comfortable bed and ensuite bathroom.
Located just of the main strip of Koh Touch also named Koh Tui (the main backpacker town where the ferry lands), it's close enough to the action but far enough to avoid noise from the bars and restaurants in town.
Check prices on Agoda | Check prices on Booking
An excellent place to relax on Koh Rong is the Sweet Dreams Koh Rong resort. This 4-star hotel offers modern bungalows (with private balcony), a spacious interior, and lovely views of the garden or beach.
There is an outdoor swimming pool as well as a private stretch of white-sand beach.
Please take into account that the hotel is a bit remote and, while there are some other restaurants around, it's about 7 kilometers from Koh Touch.
Check prices on Agoda | Check prices on Booking
Tonle Sap Lake (Kampong Chhnang)
Emily from Wanderlush: while most people opt to visit Tonle Sap Lake on a day trip from Siem Reap, a great alternative is to visit from Phnom Penh. The bottom of the lake has similar floating villages and scenery, however, this area is far less touristy and much more peaceful.
Kampong Chhnang is a small city located at the tip of the lake, where the river branches out and is a good base for exploring. It's just under 100 kilometers from the capital (around two hours by road) which makes it an easy day trip from Phnom Penh.
To get there, you can either join an organized tour from Phnom Penh or take a bus or minivan. Bayon VIP runs vans from the east side of Phnom Penh's Central Market every hour from 7 am.
The best things to do in Kampong Chhnang are all the fun outdoor activities, so I recommend going early to avoid being out on the water during the hottest part of the day.
When you arrive, hire a tuk-tuk to take you around town. Your first stop should be the docks where you can easily find a local driver to take you out on the lake in a motorboat.
Take a boat tour
'Tours' of the lake are quite comprehensive and can last up to 3 hours depending on your preference. As you pass through the floating villages, you'll get a priceless insight into daily life in this part of Cambodia.
Colorful houses and fishermen casting their nets into the life-giving waters are just some of the highlights.
Check out the pottery workshops
It's the river and lake that draw most visitors, but that's not what the city is known for. Kampong Chhnang is famous throughout Cambodia for its pottery workshops (chhnang in Khmer means 'pot').
As you drive around the city, you'll see craftspeople throwing massive clay urns and small pots, and hand-forming sculptures. The large water vessels you see in front of every home in rural Cambodia are all made here.
Visit Wat Yeay Tep and the undercover market
Finish your day with a visit to Wat Yeay Tep, a small pagoda overlooking the water, or with a wander around Kampong Chhnang's undercover market.
If you want to extend your stay, the Garden Guest House offers affordable, modern rooms and a hot breakfast. A lovely garden with seating areas and hammocks make this an excellent place to end your busy day of sightseeing in Kampong Chhnang.
Check prices on Agoda | Check prices on Booking
Battambang
Emily from Wanderlush: Cambodia's fourth-largest city, Battambang, has a laid-back vibe and is the perfect place to recuperate after hectic Phnom Penh and Siem Reap.
You can easily fill a few slow-paced days in Battambang taking in the colonial architecture, checking out the contemporary art scene, and hopping between the city's terrific restaurants.
Battambang is located in northwestern Cambodia, approximately 160 kilometers south-west of Siem Reap. There are direct buses between Phnom Penh, Siem Reap, and Battambang, which means you can visit after Angkor on your way back to the capital.
It's also possible to travel to Battambang by boat from Siem Reap, across the Tonle Sap Lake. In pancake-flat Battambang, two wheels are the preferred method of transportation.
Cycle around town and admire the French-colonial architecture
Join a guided tour with social enterprise Soksabike, or hire your own bicycle and grab a map produced by Khmer Architecture Tours to show yourself around town.
The French-colonial architecture, including the Governor's Residence, is a highlight. Along the way, stop off at Kinyei Café, another social enterprise, to grab a coffee and light lunch.
Ride the Bamboo Train
The most iconic thing to do in Battambang is riding the 'Bamboo Train', a short railway track in the forest, 10 minutes outside of town. A roundtrip costs a couple of dollars.
Admire the sunset from Phnom Sampov (bat cave)
Sunset at Phnom Sampov, better known as 'bat cave', is another must. Every evening, thousands of bats emerge from the cave-like clockwork, painting the sky with their fluid formations.
Explore some of the many galleries
Back in town, save time for a few of the galleries and creative spaces. My personal favorite, Romcheik 5, is run by a group of artist friends and features a rooftop bar.
Where to stay in Battambang: La Villa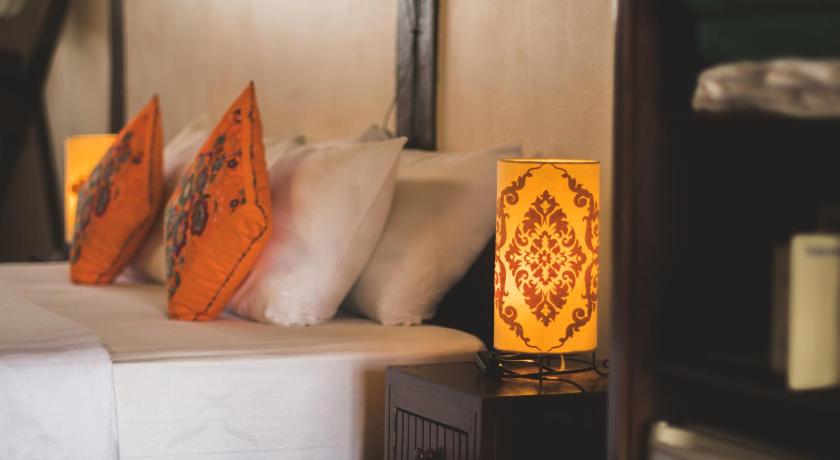 La Villa is a very affordable 4-star boutique hotel in Battambang, with an outdoor swimming pool, garden, and beautifully designed rooms with high ceilings.
You will love the French colonial ambiance and the professional staff, as well as convenient location (within walking distance of the city center without the noise).
Check prices on Agoda | Check prices on Booking
Cambodia 2 week itinerary
If you have 2 weeks in Cambodia, I recommend following the 7-day itinerary (Kampot, Phnom Penh, and Siem Reap) and adding two of the three additional locations described above (Koh Rong, Kampong Chhnang, and Battambang).
While you probably could squeeze in all three, it would be a very rushed itinerary and not something I'd recommend.
One week in Cambodia: in conclusion
If you plan to backpack Cambodia, I hope this itinerary and information helps you plan your trip. Let me know if you have any questions about this 7 day Cambodia itinerary, you can leave a comment below or send me a message.
Read more about Cambodia here:
This post was updated in December 2020.