Dubai is a city like no other. Located in the desert, it's the city of the towering Burj Khalifa and iconic Burj Al Arab, Palm Island, Ski Dubai, and glittering shopping malls.
However, no Dubai itinerary is complete without exploring the area around Dubai Creek, where you'll find a different side of Dubai, with spice and gold souks, little abra boats crossing the river, and the historic houses of Al Fahidi.
Read along to learn how to make the most of your 4 days in Dubai!
4 days in Dubai: your complete Dubai itinerary
Disclosure: Some links in this post are affiliate links. If you make a purchase through one of these links, I may earn a small commission (at no extra cost to you!). I'm very grateful when you use my links to make a purchase:-).
Dubai 4 day itinerary: map
On the map, you'll find all the places in Dubai to visit during your 4-day trip to Dubai.
Click here for the interactive map
Dubai itinerary 4 days
Plan your trip like a pro with these tools:
✈️ Find the best flight deals on Kiwi.com.
🚗 Get the best car rental deal for your road trip on Rentalcars.com.
🛏️ Find your dream accommodation on Booking.com or Agoda.
😎 Book the best tours via Get Your Guide, Viator or Klook.
📖 Plan your journey with the Lonely Planet.
🗺️ Travel safely and get reliable travel insurance from Safety Wing.
Things to know before traveling to Dubai
Which currency is used in Dubai?
The currency in the U.A.E. is the Emirati Dirham (AED). €1 is approximately 4AED. $1 is approximately 3,70AED. Here you can find the current exchange rates.
When to visit Dubai?
Dubai is located in the Arabian desert, meaning the temperature during summer is sweltering hot (40+ degrees Celsius).

Therefore, the best time to visit Dubai is between November and March, when the outside temperature varies between a more comfortable 24-30 degrees Celsius.
How can I use the public transport system in Dubai?
The best way to visit Dubai on a budget is by using the public transport system instead of taxis. You can easily use the metro, bus, and tram with a Nol Transport Card.

We bought a Nol Travel Card for 25 AED per person and topped it up several times during our time in Dubai. You can use the card on the metro, bus, and tram. Please note that you need to check in and check out.

You can find the map of the Dubai metro here and the map of the Dubai tram here.
Where to stay in Dubai
There are so many great hotels in Dubai, it can be hard to make a decision. Here are my recommendations for the best 3, 4, and 5-star hotels in Dubai.
Note: Prices for these hotels depend on the time of year and how far in advance you book. Therefore, the prices mentioned above are a rough indication of the price per night to help you compare the different options. Use 'click here' to see the latest prices on Booking and book ahead to get the best deal.
3-star hotel in Dubai
Disclosure: I was hosted by Premier Inn IBN Batutta Mall, nevertheless, all pictures and opinions are my own.
The Premier Inn IBN Battuta is a lovely place to stay in Dubai. This 3-star hotel is located next to IBN Batutta metro station, which makes it easy to travel anywhere you want in Dubai.
From the airport, you just have to hop on the red line metro and you'll be taken straight to the hotel.
From the metro station, it's only 350 steps to the hotel entrance (only 65 of these are outside so you don't even have to break a sweat;-).
Breakfast is delicious and extensive, options range from continental breakfast, English breakfast, Indian food, Middle Eastern dishes, muesli and yogurt, and plenty of fresh fruit.
The hotel staff was very friendly and helpful. Altogether a really good place to base yourself in Dubai.
Click here to check the latest prices.
4-star hotel in Dubai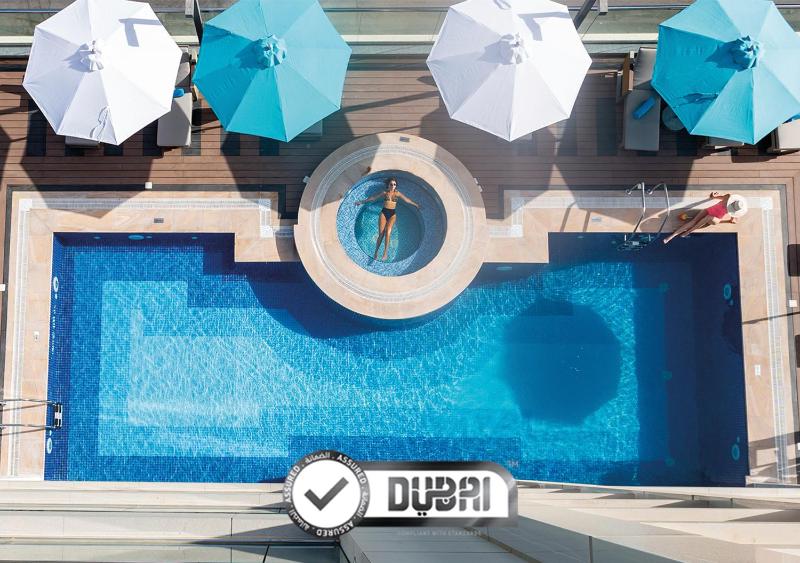 Edge Creekside Hotel is located in Deira and offers spacious rooms with a luxury ensuite bathroom, an outdoor swimming pool, a sauna, a steam room, and a fitness center.
Guests love the comfortable beds and speak very highly of the friendly staff, who are happy to help with any questions you may have regarding your Dubai trip.
Click here to check the latest prices.
5-star hotel in Dubai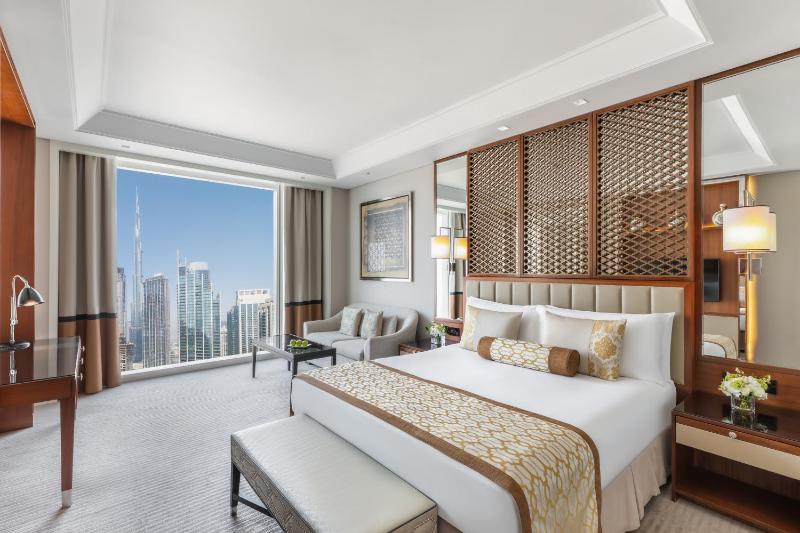 The 5-star Taj Dubai has a premium location, right across Dubai Mall and the towering Burj Khalifa. There is an outdoor pool, spa, and wellness center as well as a fitness center.
There is no shortage of restaurants at the Taj, you can enjoy international cuisine at Tesoro, eat Asian street food at Miss Tess and relish one of the delicious Indian curries at Bombay Brasserie.
Spacious rooms (45 m²) are outfitted with floor-to-ceiling windows, offering splendid views of the city. Altogether, a great place to stay during your 4 days Dubai itinerary.
Click here to check the latest prices.
Dubai itinerary: day 1
Skydiving over the Palm
Nick from The Danish Nomads: the best way to admire Palm Island is not from the ground, but from the sky…
We lived in the United Arab Emirates for two and a half years, and one specific adrenaline-fueled adventure stands out: skydiving over the Palm in Dubai.
This was an absolutely legendary experience!
Imagine yourself in a small Twin-Otter plane, ascending to 4000 meters, at which point you throw yourself out of the open door.
Straight into the abyss, you go, and what follows is sixty seconds of yelling, screaming, laughing, and deafening winds.
Your banana-shaped body is propelled directly toward the Earth at speeds of up to 200 km/h. Luckily, you have a professional instructor strapped to your back, which does this kind of thing for a living.
He knows just when to pull the parachute and saves your life in the process.
As things calm down, you are gliding ever so slowly through the air, basking in the sun and enjoying the magnificent view of the Palm below.
To your amazement, it turns out that one of the biggest man-made islands in the world actually really is shaped like a palm tree.
On the shore, the Dubai Marina skyline towers above the beach, and in the far distance, you catch a glimpse of the Burj Khalifa, the tallest skyscraper in the world.
After a while, you land safely, and just moments later, you are ready to go again. This is a perfect addition to your ultimate bucket list, there's just no way you'll come to regret it!
You can book this unique experience online. Priced at 920 USD; it costs you a pretty penny… However, it's definitely worth it, because this is an experience you will never, ever, forget.
The Skydive Dubai office is located down at Dubai Marina, near the Zero Gravity Beach Club. Any taxi will know where to go as this is the only place licensed to skydive in Dubai.
We promise you, everybody can handle the jump; regardless of whether you have a full-blown fear of flying or just feel a bit intimidated about the prospect of jumping out of a moving airplane.
The only limitation is you need to be over 12 years of age and weigh under 90 kg if you are a woman, or 100 kg if you are a man. The instructors are super professional and make you feel safe all the way.
Even if you don't dare to jump, it's worth the effort to go down to Dubai Marina anytime during the day and watch the parachutes as they come spiraling down.
Perhaps that beautiful sight will change your mind…
Explore Dubai Marina
Dubai Marina reminded me a lot of the Canary Wharf in London, with its skyscrapers and canals.
The walk along the boulevard is lovely, though be warned, you may strain your neck from gazing up at yet another futuristic building!
There is no shortage of restaurants in the Dubai Marina area, you'll find Mexican, Asian, Japanese, Italian, and many more cuisines.
Have lunch at the restaurant of your choice, sit back, relax and enjoy the view over the water.
If you're looking for more adrenaline-inducing activities consider hopping aboard a speedboat and admiring the top spots in Dubai from the water.
Go on a desert safari
Check out the most popular desert safari tours here:
I had never been to the desert, which is why I really wanted to go on a desert safari. Our desert safari was filled with lots of fun activities such as dune bashing, quad-riding, getting a henna tattoo, and enjoying traditional foods.
Dune bashing is a thrilling activity, which requires a highly skilled and experienced driver.
I was happy to sit in the back while admiring the views and feeling my stomach lurch after a steep drop over the top of a dune.
Important note: dune bashing isn't something you can do yourself, driving in the deep sand and crossing the tall dunes is a difficult skill, learned by a lot of practice.
Once at the camp, you can ride a quad around a short circuit which is surprisingly easy. We had a lot of fun racing through the sand!
One of the best things about the desert safari is watching the sunset from the top of a dune. Just find a good spot near the camp and wait for darkness to fall.
Once it's completely dark, dinner will be served in the camp. While enjoying the local delicacies (such as BBQ chicken, salad, hummus, and fresh fruits) you can admire a traditional Tanoura dance and other cultural performances on stage, such as belly dancing and a fire show.
Before you know it, it will be time to head back to Dubai.
Disclosure: I was hosted by Happy Adventures on our Desert Safari.
Dubai itinerary: day 2
Admire the sunrise on a hot air balloon flight
Going on a hot air balloon flight had been a dream of mine for years. Flying over the desert while watching the sunrise slowly over the Hatta Mountains was a magical experience!
In order to catch the sunrise, you'll be picked up from your hotel between 4.30-5.00 am. I know that's extremely early for a holiday, but believe me, it's worth it!
By the time you arrive at the intended take-off spot, the crew will already be preparing the hot air balloon for takeoff. The pilot will give some safety instructions and explain the landing position.
When everything is prepared and all passengers are in the basket, it's time to lift the balloon off the ground.
Watching the world below become smaller and smaller was one of my favorite moments of the hot air balloon flight…
During the flight, you will see the sunrise over the Hatta Mountains in the east, a magical moment. You can see Dubai in the distance and camel farms in the desert below.
A hot air balloon flight lasts approximately 45 minutes up to an hour, depending on the (direction of the) wind.
Disclosure: I was hosted by Sindbad Balloons.
Discover Old Dubai
I loved Old Dubai. It's such a different side of the city, nothing like the glitzy skyscrapers and massive malls.
Explore the streets of Al Fahidi
First, head to Al Fahidi, the historic neighborhood of Dubai with cute little streets and art cafes. There are approximately 50 historic buildings here, which date from the early 1900s until the 1970s.
They were built by merchants from a Persian town, who used traditional materials such as sandalwood, palm wood, teak, and sand-colored stone.
While wandering around the narrow streets of Al Fahidi, try and find the remnants of the old City Wall, a small section has been preserved!
Dubai Museum
Dubai Museum is housed in the beautiful Al Fahidi Fort which was built in 1787, making it the oldest structure in Dubai. The entrance fee into the museum is 3 AED per adult and 1 AED for kids under the age of 6.
In this wonderful museum, you can learn more about the history of Dubai and its surroundings. I personally found it very interesting to learn more about the old way of life (before oil was discovered in the region).
People lived a very different life in those days and worked as farmers, fishermen, pearl divers, or tradesmen selling goods at the souk. How things can change in just a couple of decades…
Take an abra across Dubai Creek
The easiest way to cross Dubai Creek is by abra. These small wooden boats continuously cross the river to ferry people across.
They cost 1 AED per person and while the engines are very loud, it's a fun way to get across.
One across Dubai Creek, take some time to explore the different Souks. For ages goods transported along the Silk Road were sold in these very Souks!
Nowadays you'll find lots of colorful spices, fruits and vegetables, textiles, (golden) jewelry, exotic fragrances, purses, and much more.
If you want to learn more about Old Dubai, join this 3-hour Old Dubai tour led by knowledgeable local guides.

You'll learn about Arabia and its ancient history and culture and visit Al Fahidi Fort and the Dubai Museum.

Of course, a visit to the spice and gold souk is included as well and with the help of your guide, you'll get the best deals when purchasing a nice souvenir, such as spices, gold, or a shawl.
Birdwatching at the Ras Al Khor Wildlife Sanctuary
Ivan from Mind The Travel: a visit to the Ras Al Khor Wildlife Sanctuary is one of the best things to do in Dubai. This expansive wetland with natural vegetation is a breeding ground and habitat for mammals, crustaceans, and fish.
Ras Al Khor was established in 1985, and on March 1 in 1998 the local government declared the entire area as a wildlife sanctuary.
The nature reserve provides a safe habitat for 67 species of birds, including migratory birds and hundreds of beautiful Greater Flamingos that call Ras Al Khor home.
The WWF UAE Project Office and Dubai Municipality collaborated to fund and protect the wetland reserve in order to house the thousands of migratory birds from all over the world.
There are three hides in the reserve's vicinity, which guests and photographers can use for bird watching. From the observatories, you can watch great egrets, grey herons, cormorants, snowy plovers, reef herons, and black-winged stilts.
For those who have come to do some birding in Dubai, the variety of birds is amazing. Located at the mouth of the famous Dubai Creek, Ras Al Khor Wildlife Sanctuary lies in the northeastern part of Dubai.
The total area is about 13 square kilometers. The sight of hundreds of birds lazing in the waters of the creek sets a striking sight against the backdrop of towering skyscrapers.
You'll find the main hide at the end of a shielded path, that leads into the nature reserve. The design of the hide helps the birds feel comfortable and with a bit of luck, you'll get very close to the birds.
You'll likely notice that some of the flamingos aren't quite as bright as others. This is due to their diet; flamingos with bright pink plumage have been eating a diet richer in beta-carotene and certain bacteria than that enjoyed by their paler buddies. Younger flamingos are generally paler as well.
Ras al Khor Wildlife Sanctuary doesn't charge an entrance fee and it is a wonderful place to visit with your family. If you want to avoid the suffocating heat, visit as early as possible.
Important note: the birds are fed twice a day, morning feeding time is at 9-9.30 am and afternoon feeding time is around 3 pm.
Dubai: day 3
Admire the sunrise from the top of the Burj Khalifa
Helen from Helen on her Holidays: visiting Dubai and not visiting the Burj Khalifa is unimaginable. A true icon of the city, rising up from beside the Dubai Mall, it's a must on any Dubai trip plan.
Many visitors choose to visit the 124th-floor observation deck, with the most sought-after tickets being for sunset slots.
As the sun dips below the horizon, you get to see both sides of the city – the bustle of daytime Dubai and the beautiful city lights as day turns into night.
While definitely a magical experience, it comes at a cost. Sunset tickets cost nearly twice as much as a normal At The Top ticket, and that popularity means both that they sell out quickly, and that you'll be sharing the view with crowds of other visitors.
However there's another way to see Dubai in the daytime and at night in a single visit, and that's by visiting the Burj Khalifa at sunrise.
Sunrise tickets are available on Friday and Saturday mornings during the winter months. As well as being cheaper, the terribly early alarm call makes this time slot a much less popular choice.
Chances are you won't have to queue and once on the viewing deck, you can move around freely to take in the views from every angle.
Click here to buy your At The Top ticket for the Burj Khalifa
Shop at Dubai Mall
After your ride to the top of the Burj Khalifa, allow plenty of time to explore the Dubai Mall. Inside this massive complex (the largest mall in the world by total land area), you can find an ice rink, aquarium, and even an indoor waterfall.
And if that wasn't enough you can also catch a movie, visit the stunning Rainforest Cafe, check out the skeleton of a 7-meter-high dinosaur, or get haunted at Hysteria.
And of course, there's lots of shopping to be done as well, every designer's name can be found in Dubai Mall.
If you have four days in Dubai, you may be tempted to spend a whole day or more in Dubai Mall as there is so much to see and do. However, how about a relaxing afternoon on one of Dubai's beaches instead?
Relax on one of Dubai's beaches
Trijit from Budget Travel Buff: there is more to Dubai than high-rise buildings and fancy cars. In fact, Dubai is one of the few places to enjoy a beach holiday within a thriving city!
From adrenaline-pumping water skiing and paragliding to luxurious beach resorts, Dubai has a lot to offer for beach lovers.
There are many beautiful beaches in Dubai, however, most are private beaches that are owned by hotels.
You have to pay a fee or buy a membership to get onto these beaches. Luckily, there are several public beaches as well, some are free to access and others charge a small fee.
The best time to enjoy the beach in Dubai is between November and February, temperatures are comfortable and the water temperature is perfect for swimming.
Jumeirah Public Beach
One of my favorite beaches in Dubai is Jumeirah Public Beach. This beach is one of the most popular destinations on Dubai's coast and has no entrance fee.
You can enjoy the sun and the ocean while viewing the majestic Burj Al Arab. Jumeirah public beach also offers various adventure activities like parasailing, scuba diving, and jet-skiing.
Kite Beach
Another great Dubai beach is Kite Beach. There is no entrance fee either, plus, this beach has one of the most beautiful coastlines in Dubai.
Kite Beach is a paradise for watersport lovers and is especially popular among kite surfers. Volleyball is a popular activity as well.
Or you can just sit back and relax while gazing out over the vivid blue water.
Watch the Dubai Fountain Music and Light show
After a relaxing day on the beach, head back to Dubai Mall and the Burj Khalifa, to catch a show of the Dubai Fountains. This is the world's largest musical fountain and a very popular Dubai attraction.
The best time to watch the Fountain Show is when night falls. Evening shows begin at 6 pm and start every half hour until 11 pm.
Each show is a bit different and features different music, though they typically last around 5 minutes.
The most popular spot to watch the show is the Waterfront Promenade, however, note it can get very busy so if you want to secure a good spot you have to arrive on time.
Dubai: day 4
Stroll through the Miracle Garden
Arzo from Arzo Travels: one place to add to your Dubai 4 days itinerary is a visit to the Miracle Garden, this is a perfect winter activity in Dubai as the Gardens are only open during winter.
There is a reason why it is such a popular Instagram spot, it really is as pretty in real life as it is in the pictures.
Important note: because the Miracle Garden is only opened for a few months each year it can get quite crowded. It's best to visit early in the morning when the crowds haven't arrived yet.

Booking your ticket online is recommended, especially during peak season.
The garden was first launched on Valentine's Day in 2013 and has become a tourist magnet ever since. With 50 million flowers in all colors and shapes and 250 million plants, it's the world's largest natural flower garden.
The flowers are displayed in a fun and cool way. So whether you are a young kid, teenager, or adult, the Miracle Garden is a fun place to visit in Dubai for all ages.
If you don't want to bring your own snacks and drinks, you can buy them from one of the numerous little stalls.
The Miracle Garden is located in the district of Dubailand, which is not directly in the heart of Dubai, so plan for enough time to get there.
A taxi from the nearest metro station (the Mall of the Emirates) takes approximately 10-15 minutes around 30-35 AED.
Visit IMG World of Adventures
Nabiha from Verses by a Voyager: one of the must-visit places on any Dubai trip itinerary for adventure seekers is the IMG World of Adventures. Opened in 2016, this is the largest theme park in the world.
Unless you are traveling to the city in winter, indoor activities in Dubai are your best bet (due to the extreme temperatures).
The IMG World of Adventures has a theme of a cartoon network, which features many famous cartoons themed rides that any adrenaline junkie will love.
It also hosts a dedicated section of souvenirs and rides for Avengers fans, this is perhaps the most beloved section of the park.
Furthermore, there are several outdoor rides and an entire area dedicated to the Lost Valley which is the dinosaur adventure zone.
IMG World of Adventures also hosts a spooky-themed hotel, which is indeed very scary and perfect for those who enjoy spooky stuff.
IMG World of Adventures has an area named IMG Boulevard, which features various live performances and shows to keep those entertained who aren't interested in the rides.
Book your ticket online (including transportation to the park) and experience a full day of fun inside one of the world's biggest indoor theme parks. The park is open every day of the year and
If you don't book a ticket including transport and you've got a rental car, the easiest way to get to the IMG World of Adventures is to drive. There is ample parking available.
Alternatively, you can get a cab from a metro station (Dubai Mall MRT station is the closest one to the park).
If you plan to follow this exact 4-day Dubai itinerary, a taxi will from the Miracle Garden to the IMG World of Adventures takes approximately 20-25 minutes and will cost around 50 AED.
Planning to visit Abu Dhabi or Oman as well? Also read these posts:
• How to cross the Hatta border
• Oman road trip itinerary
• Oman budget information
• Reasons to visit Oman
• Things to do in Muscat
• Camping in Oman
4-day itinerary Dubai: in conclusion
I hope you enjoyed reading about our Dubai travel itinerary and that this post has given you lots of ideas for your own Dubai trip!
Looking for more travel inspiration? You may also like these posts:
This post was updated in October 2022.
Disclaimer: I was hosted by the Premier Inn IBN Battuta Hotel, Happy Adventures, and Sindbad Balloons Nevertheless, all pictures and opinions are my own.