Malaysia is a beautiful country in Southeast Asia that is home to a mix of cultures, multiple languages, many different (and delicious) cuisines, and tons of interesting places to visit.
This Malaysia 2 week itinerary will help you plan your trip around Malaysia. From tropical islands to historic Melaka or buzzing Kuala Lumpur, this post got you covered!
Malaysia 2 week itinerary
Disclosure: Some links in this post are affiliate links. If you make a purchase through one of these links, I may earn a small commission (at no extra cost to you!). I'm very grateful when you use my links to make a purchase:-).
Malaysia in 2 weeks
Malaysia is a large country and as I said above, there are many things to see. This 2 week Malaysia itinerary focuses on Peninsular Malaysia and doesn't cover any sights in Borneo.
I made two trips to the Malaysian peninsula, during my first Malaysia 2-week trip I visited Tioman, Kuala Lumpur, and Langkawi.
During a different trip, I spent another two weeks in Malaysia and visited the Perhentian Islands and Penang.
Two fellow travel bloggers have kindly provided their personal travel recommendations for Melaka and the Cameron Highlands.
So you'll have plenty of options to choose from and create your own customized Malaysia itinerary based on the information in this post!
Plan your Southeast Asia trip like a pro with these tools:
✈️ Find the best flight deals on Kiwi.com.
🚌 Book your transport tickets (train, bus, ferry, minivan, and more) via 12Go.Asia
🛏️ Find your dream accommodation on Booking.com or Agoda.
😎 Book the best tours with Klook and Get Your Guide.
📖 Plan your journey with the Lonely Planet.
🗺️ Travel safely and get reliable travel insurance from Safety Wing.
Malaysia itinerary and travel map
In the map below you can find my suggested itinerary, where to stay, and highlights to visit during your 14 days in Malaysia.
Click here for the interactive map
2 weeks in Malaysia itinerary
Day 1-4: Tioman Island
Day 5-6: Melaka
Day 7-9: Kuala Lumpur
Day 10-11: Cameron Highlands
Day 12-14: Langkawi
Where to stay in Malaysia
In the table below you can find the best places to stay in Malaysia. Further down in the post you can read more details about these hotels.
| City/area | Hotel | Stars | Rating | Price | Book |
| --- | --- | --- | --- | --- | --- |
| Tioman | Bamboo Hill | | 4.7/5 | RM 150 | Website |
| Tioman | Berjaya Tioman | ☆☆☆☆ | 7.9/10 | US$196 | Agoda | Booking |
| Melaka | Majestic Malacca | ☆☆☆☆☆ | 8.6/10 | US$116 | Agoda | Booking |
| Kuala Lumpur | The Lantern Hotel | ☆☆ | 7.8/10 | US$25 | Agoda |
| Kuala Lumpur | The Traders Hotel | ☆☆☆☆☆ | 8.7/10 | US$93 | Agoda | Booking |
| Cameron Highlands | The Heritage Hotel | ☆☆☆☆ | 7.9/10 | US$46 | Agoda | Booking |
| Langkawi | NR Langkawi Motel | ☆☆ | 8.3/10 | US$25 | Agoda | Booking |
| Georgetown | Campbell House | ☆☆☆☆ | 9.4/10 | US$72 | Agoda | Booking |
| Perhentian Islands | BuBu Resort | ☆☆☆☆ | 8.5/10 | US$273 | Agoda | Booking |
Note: Prices for these hotels depend on the time of year and how far in advance you book. Therefore, the prices mentioned above are a rough indication of the price per night to help you compare the different options. Check the latest prices on Agoda and Booking and book ahead to get the best deal.
Important things to know when planning a trip to Malaysia
Malaysia in two weeks: the perfect itinerary
Day 1-4: Tioman Island
Tioman is a beautiful tropical island and while it's not a large island (just 10 km wide and 20 km long), there are many fun things to do on Tioman Island.
There are 5 villages along the west coast of Tioman: Kampong Genting, Paya, Tekek, Air Batang (also known as ABC), and Salang. Located on the east side of the island is Juara village, which is accessible by road (from Tekek).
We stayed at the villages Salang and ABC and walked to Tekek as well. Of these three, I personally preferred Salang, as it's the most secluded and least developed.
Tioman truly is a tropical paradise, one of the prettiest islands in Southeast Asia, with monkeys crossing the 'main street' of the village and giant lizards lurking in the river.
The ocean around Tioman is a National Reserve and Tioman is a great place to go scuba diving, because of the beautiful corals and rich marine life.
During one of our dives, I saw a shark, a giant moray eel, and a turtle in just one dive!
Other things we did on Tioman were walking the coastal path between Salang and Tekek, snorkeling, relaxing on the beach, and sampling the delicious Malaysian cuisine at the local restaurants.
Read more about scuba diving on Tioman.
Where to stay on Tioman Island
Ella's Place in Salang
In Salang, we found a cozy little bungalow at Ella's Place, located at the northern end of the beautiful beach.
There is no warm water for showering, but Tioman is a hot and tropical island so that wasn't an issue for us. The accommodation is very basic but clean.
The bed has a mosquito net and there's a fan for some fresh air at night (there are aircon bungalows as well). The views from the property are lovely and the sunsets are spectacular…
We paid 75MYR (€19/$21) per night for a bungalow with a fan. You can't find the property online and therefore cannot book ahead.
If you are visiting Tioman during the week outside of peak season, you can take your chances and hope there is a bungalow available at this awesome little spot in Salang!
Bamboo Hill in Air Batang (ABC)
We spent two nights in Salang and another two nights at the village Air Batang (ABC). We were very lucky to stay at the very popular (and often fully booked) Bamboo Hill.
These beautiful wooden bungalows are built against a rock and surrounded by trees. Needless to say, the views from the bungalows are splendid…
We had monkeys peeking into our room and a cat who hid her three tiny kittens in our room to protect them from the lizards! I highly recommend Bamboo Hill, it's a lovely place to stay, and the family who runs it is very kind.
We paid 100MYR (€25/$28) per night. You can find this place online, this is their official website. You can also make a booking by sending an email to booking @ bamboohillchalets dot com.
Be sure to make a reservation as soon as you know your trip dates, as I mentioned above this place is very popular and often fully booked.
The luxury option: the Berjaya Tioman Resort
Both accommodations mentioned above are absolutely lovely, but they are pretty basic. If you prefer to stay at a more luxurious hotel, consider staying at the Berjaya Tioman Resort.
The resort is located near Tekek village, and a pickup and drop-off service from the jetty pier in Tekek is included when booking a room at the Berjaya. There are different room types, such as Garden en Seaview chalets and a Junior Suite.
There are many activities offered at the Berjaya Resort, ranging from an 18-hole golf course to a children's playground and a tennis court. Views from the Beach bar are wonderful and the staff is kind and welcoming.
Check prices on Agoda | Check prices on Booking
Tioman to Melaka
From Tioman, take a jetty back to the mainland (Mersing) and go to the Mersing bus terminal.
There are daily buses operating a direct route between Mersing and Melaka. Check the online schedule to make sure there is a bus available on your desired travel date.
You can book a ticket online as well, to secure your seat.
Day 5-6: Melaka
Caroline from CK Travels: Melaka, formerly called Malacca, is located south of Kuala Lumpur and is a small riverside town.
Rich in British, Dutch, and Portuguese colonial history, Melaka proudly carries its UNESCO world heritage status.
Melaka is very compact so easily explored by foot and is full of wonderful heritage buildings, ancient landmarks, and quirky street art.
There are many fun things to do in Melaka but below you can read about the three main highlights.
Jonker Street weekend night market
This open-air weekend night market is one of the best in Southeast Asia and runs every Friday to Sunday from the river to the far end of Jonker Street.
You'll find a variety of stalls selling unique souvenirs, local handicrafts, and amazing street food, plus there is a huge stage offering fun entertainment.
Make sure you try Nyonya Laksa, a rich and creamy coconut-based noodle soup that is a Melaka specialty and a mix of Malay and Chinese influences.
Melaka Red Square
This iconic and historic red square is home to many terracotta red buildings in the Dutch colonial style built between 1660 and 1700.
This photogenic square is located in the center of town and is also the meeting point for Melaka's collection of kitsch cartoon trishaws which are really fun and colorful!
Melaka River Cruise
Taking a river cruise is a great and relaxing way to see many beautiful historical buildings and interesting sights around Melaka's old town, including Kampung Morten, one of the few remaining traditional villages in the area.
The scenic round trip takes 45 minutes and runs daily from 9 am to 11.30 pm. The tickets cost 30MYR per adult.
Consider booking this UNESCO highlights tour if you love to learn more about the historical city of Malacca and its key landmarks
Where to stay in Melaka: Majestic Malacca Hotel
One of the best places to stay in Melaka is the Majestic Malacca Hotel. This boutique hotel housed in an impressive heritage mansion dates back to 1920.
The colonial-style rooms are spacious with comfortable beds and beautifully designed bathrooms. There is a (small) swimming pool, a spa, and even a library to relax and read a book after enjoying a day of sightseeing in Melaka.
Altogether, the splendid architecture, as well as the wonderful staff, will make your stay at the Majestic Malacca Hotel a memorable one!
Check prices on Agoda | Check prices on Booking
Melaka to Kuala Lumpur
From Melaka, the easiest way to travel to Kuala Lumpur is by bus. There are several departures a day and the journey takes 2-2.5 hours. Check the bus schedule and book online here.
Day 7-9: Kuala Lumpur
One of the things I love about Malaysia is its diversity and a great example of this is Kuala Lumpur.
The capital of Malaysia is home to 1.67 million people. 44% of the people living in KL are Malay, 43% are Chinese, 10% are Indian and the rest of the population has nationalities from all around the world.
There is an almost endless list of things to do in Kuala Lumpur and you could spend weeks or even months exploring this interesting city.
However, for those of us who only have limited time, here are some of the places you can't miss during your Kuala Lumpur itinerary.
Get lost in Chinatown
Chinatown is a slightly chaotic part of the city and can feel like a maze with no escape. Along Petaling Street vendors are selling all kinds of food and fake designer goods like bags, sunglasses, and watches.
Chinatown is a fun place to walk around for a couple of hours and the Central Market is a good spot to pick up a souvenir or two for friends or family back home.
KLCC and the PETRONAS Towers
One of the places you can't miss during a trip to Kuala Lumpur is a visit to KLCC. KLCC is one of the more expensive districts and home to a lot of shopping malls and the famous PETRONAS towers.
The best place to admire the PETRONAS Towers is from the Sky Bar of the Traders Hotel (located across the towers). From the bar, you'll have an excellent view of the city and the iconic Petronas Towers.
Insider advice: plan your visit to the Sky Bar just before sunset. You can watch the sunset while enjoying a drink, and see the towers both by day and by night.
Batu Caves
While the Batu Caves are located a 30 minutes trip (by public transport) from the city center, they are absolutely worth visiting!
These huge caves and the imposing statue 43-meter high statue of the Hindu god, Lord Murugan, are important pilgrimage sites for Hindus.
Therefore, behave and dress respectfully (bring a scarf or sarong to cover up before entering the caves).
Opening times are 6 am until 9 pm and there is no entrance fee for the caves. You can easily reach the Batu Caves by public transport, but if you prefer you can also book a half-day tour including transport and a guide.
Where to stay in Kuala Lumpur
Budget option: the Lantern Hotel
The Lantern Hotel is located in Petaling street, in the midst of Chinatown, and very close to an MRT station (Pasar Seni). I stayed here twice and would gladly return for a third stay.
While the rooms are small, they are comfortable and clean. WiFi is good and proper coffee is served in the communal area on the first floor.
And I mean actual coffee bean coffee, not the 3-in-1 instant drab that's supposed to be coffee that you're often served in Asia. Altogether a good place to stay for budget travelers looking for a very central location!
Luxury option: the Traders Hotel
As I mentioned above, the best place to see the Petronas Towers is the Traders Hotel.
If you don't mind paying a bit more (and I say a bit more, because while the Traders Hotel is a 5-star hotel it won't cost you a fortune), you can enjoy the view of the iconic towers from your own room.
Be sure to select a Twin Towers Room when making a reservation to avoid disappointment!
Besides splendid views, the Traders Hotel offers excellent facilities such as an indoor swimming pool, 2 onsite restaurants, a gym, and a spa.
Check prices on Agoda | Check prices on Booking
Looking for more Kuala Lumpur travel inspiration? Also read about the best things to do in Kuala Lumpur and check out this 48 hours Kuala Lumpur itinerary.
Kuala Lumpur to Cameron Highlands
Traveling between Kuala Lumpur and the Cameron Highlands is best done by bus. The bus journey takes around 5 hours and there are several bus companies operating this route (with multiple departures a day).
Check the bus schedule and make an online booking here.
Day 10-11: Cameron Highlands
Vicki from Vicki Viaja: Cameron Highlands was definitely the greenest place I have ever visited and one of the highlights of our trip to Malaysia.
Located east of the Malaysian town of Ipoh, the Cameron Highlands is an absolute must-see when traveling between the North and the South of the country (or vice-versa).
The most important thing you should know about the Cameron Highlands is that it's a bit cooler than the surrounding area, due to the altitude of the Highlands.
Be sure to bring some warm clothes (long pants and a thin jacket) if you are visiting the area.
The highlights of our Cameron Highlands itinerary were definitely the tea plantations and the Mossy Forest.
If you want to learn more about the history of these sights, the individual plants, and tea production, we strongly recommend booking a half-day tour.
A tour is around 60MYR and includes transport, a knowledgeable guide, and a fantastic half-day of sightseeing around the most famous spots in the region.
Click here to book a Cameron Highlands tour
Tea Plantations
During the tour, your guide will explain to you everything about tea production in this region.
Our guide also made sure every tour participant received the perfect souvenir photo of their trip to the Cameron Highlands. Of course, you can also try the delicious tea that's produced at the plantation.
Mossy Forest
The Mossy Forest is another highlight of any trip to the Cameron Highlands. There are so many different green plants waiting to be discovered!
There are some excellent photo spots as well. Simply walk along the marked path and enjoy the beautiful views.
Strawberry Farm
As a perfect end to your tour, I recommend a stop at Strawberry Farm. Here you can find freshly picked strawberries in all their forms. We especially liked the juice.
If you prefer to discover the Cameron Highlands without a tour, of course, you can do so as well. For example, you can rent a car and drive the same route by yourself. We recommend starting early in the morning before all tourists begin to roam the tea plantations.
Where to stay in the Cameron Highlands: the Heritage Hotel
My recommendation is to stay in Tanah Rata during your time in the Cameron Highlands. Tanah Rata is the largest township in the area and buses from Kuala Lumpur stop at the Tanah Rata bus terminal.
A good place to stay is the Heritage Hotel Cameron Highlands, which is approximately a 10-minute walk from the town center.
I recommend booking one of the Deluxe Wing rooms, which is the newer part of the hotel. Rooms are spacious and clean with comfortable beds.
There are two onsite restaurants (the Jasmine Garden Restaurant and the Rainforest Restaurant) as well as the Vintage Bar and the Vintage Lounge, serving Cameron Highlands tea, cookies, and cake.
Check prices on Agoda | Check prices on Booking
Cameron Highlands to Langkawi
Traveling from the Cameron Highlands to Langkawi will take a full day, no matter your chosen mode of transport. There are several options:
Take a bus back to Kuala Lumpur and catch a flight to Langkawi. While this may feel like backtracking, it's actually the most comfortable option. The bus journey is the shortest one and the airport in Langkawi is close to Pantai Cenang, the best place to base yourself in Langkawi.
Take a bus to Butterworth and change to another bus going to Kuala Perlis. At Kuala Perlis, catch the ferry to Langkawi (Kuah).
Take a bus to Ipoh and change to another bus going to Kuala Perlis. At Kuala Perlis, catch the ferry to Langkawi (Kuah).
If you have a couple more days to spend in Malaysia, I highly recommend adding Penang to your itinerary before heading to Langkawi.

Not only will it break the long journey between the Cameron Highlands and Langkawi, but Penang is also a wonderful place to spend a couple of days. You can read more about Penang below.
Day 11-12: Langkawi
Another wonderful island in Malaysia and a great place to end your Malaysia trip itinerary is Langkawi.
Langkawi is located just off the northwestern coast of Malaysia and, unlike the islands on the east coast, can be visited year-round. While Langkawi is much more developed than Tioman Island, you'll find beautiful white-sand beaches here, as well as the dense green jungle.
There are also several wonderful luxury resorts in Langkawi, making it the perfect place to end your Malaysia holiday in style. These are some of the best 5-star hotels in Langkawi:
You can read more about Langkawi in my Langkawi trip itinerary, but here are my top 3 things to do in Langkawi.
Langkawi Sky Bridge
Two of the most famous attractions in Langkawi are the Langkawi Cable Car and the Langkawi SkyBridge.
The cable car will take you to a height of 708 meters above sea level. From the top station, it's only a short walk to the SkyBridge.
The bridge is about 100 meters from the ground, something you'll find quite scary when walking across the transparent section of the floor about midway on the bridge (pictured above).
Click here to book your online ticket.
Tanjung Rhu Beach
Tanjung Rhu is a secluded beach on the northeast side of Langkawi. Unlike the main beach in Pantai Cenang, this beach is usually very quiet.
With splendid views, soft white sand, and shallow water, this is a perfect beach to spend an afternoon.
Watch the sunset on Pantai Cenang
This busy but beautiful beach in Pantai Cenang is an excellent place to watch the sunset and a perfect way to end your two-week Malaysia itinerary.
You can enjoy the view from the beach or opt for dinner or a drink at one of the restaurants located along the beach.
Either way, the views will be stunning. Don't forget to take a picture that will forever remind you of your amazing Malaysia holiday…
Where to stay in Langkawi on a budget: NR Langkawi Motel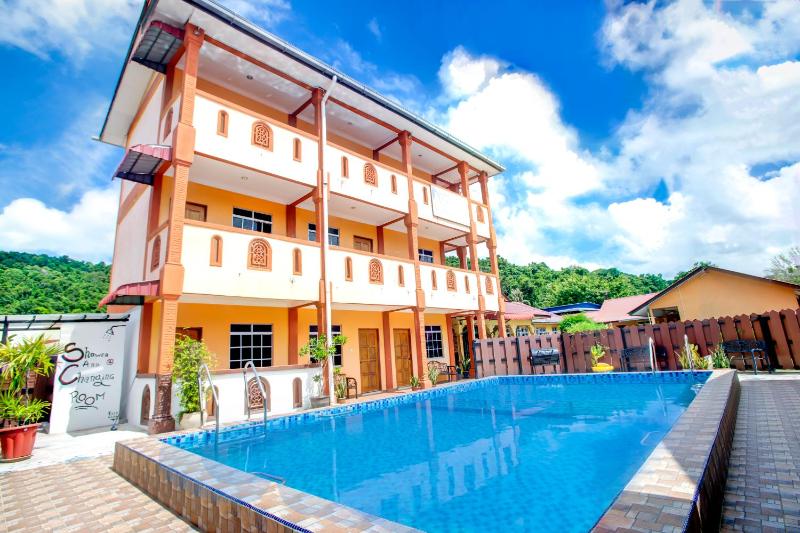 The NR Langkawi Motel is a lovely place to stay. It's a small family-run hotel just outside of Pantai Cenang, perfect if you've rented a car or a scooter for your Langkawi trip.
The room is large, clean, and comfortable and has a little porch where you can relax. The owner is very welcoming and friendly, altogether we had a nice stay here.
Check prices on Agoda | Check prices on Booking
If you have more time to spend in Malaysia…
If you have more time to spend in this beautiful country, consider adding the Perhentian Islands or Penang (or both if you have another week or so) to your Malaysia trip plan.
Georgetown (Penang)
Penang is another island just off Malaysia's west coast and known for its incredible street food scene. Don't come to Penang expecting tropical beaches and palm trees.
While you will see palm trees and there are some beaches, that's not why you should visit Penang. The reason why Penang is highly worth visiting is because of Georgetown, the capital of the island.
The old town of the city is a UNESCO heritage site, where you'll find colonial buildings, colorful Chinese shophouses and mansions, beautiful temples, and old mosques.
Georgetown is also known for its street art and you'll undoubtedly have come across one of the famous murals on Instagram.
In Malaysia's Lonely Planet you can find a self-guided street art walking tour, making it easy to locate the most famous murals.
However, also allow yourself plenty of time to wander around and discover lesser-known but equally beautiful and original pieces of art!
Another reason why you should visit Georgetown is for the food. Often named the food capital of Malaysia or even the world, there is no better place to sample as much street food as you possibly can than Georgetown.
Grab a bowl of Hokkien Mee at CY Choy Road or Roti Canai at Transfer Road. If you prefer Char Koay Teow, visit Siam Road and if it's Teow Chew Chendol you're craving head to the small stall on Penang Road.
More Penang street food dishes and where to eat them can be found here.
Alternatively, indulge your taste buds and eat like a local on this 4-hour street food tour. Step off the beaten track and mingle with the locals buying fresh snacks from 4-5 food hawkers (with your guide).
Other worthwhile places to visit in and around Georgetown are Fort Cornwallis, Kek Lok Si Temple, and Penang Hill.
Where to stay in Georgetown: Campbell House
There are many hotels and other types of accommodation in Georgetown, suitable for any budget. We stayed at a couple of different hotels in Georgetown but our favorite place was Campbell House.
This lovely boutique hotel is housed in a meticulously restored building dating from 1903! The rooms are beautifully decorated and offer all the comforts you can expect from a 4-star hotel.
However, what really sets this hotel apart is the dedication of the staff to make your staff the best it can be.
From the many small complimentary extras (drinking water, fresh lime ice tea, and even milk in case you want to make coffee in your room) to accommodating our requests such as an extra towel, a map with sightseeing spots in Georgetown, or recommended places to eat around the hotel.
The hotel staff will do anything they can to make sure you have an amazing stay at the hotel and in Georgetown.
Check prices on Agoda | Check prices on Booking
The Perhentian Islands
There is no shortage of heavenly tropical islands in Malaysia and the Perhentians are no exception.
The Perhentians are a cluster of small islands about 20 kilometers off the Northeast coast of Malaysia. There are 2 main islands: Perhentian Besar (Besar means big) and Perhentian Kecil (Kecil means small).
One of the best things to do on the Perhentians is scuba diving (or snorkeling), the ocean around the islands is a designated marine park and the underwater world is amazing.
If you stay on Kecil as we did, there are also some nice little trails through the lush green jungle if you are into hiking. When heading out for a hike, be sure to carry plenty of water as well as sunscreen and mosquito repellent.
You can walk from Long Beach to Coral Bay (1km), from Long Beach to Fisherman Village (3,2km), and from Long Beach to the Wind Mills on top of the hill (2km).
Read my extensive guide to the Perhentian Islands for more information.
Where to stay on Perhentian Kecil: BuBu Resort
This lovely hotel can be found in Long Beach (Perhentian Kecil). We very much liked our room at BuBu Resort: the bed was comfortable, the bathroom was modern and clean and the towels were soft and fluffy.
The best thing about the room was the view from our balcony (pictured above on the right).
Each morning the smell of freshly baked croissants and Italian coffee lured us to the breakfast buffet. The food menu for lunch and dinner was excellent as well.
While prices were higher than at the other restaurants on the island, the quality of the food was also much better and the portions were very generous.
BuBu also operates a sister hotel, BuBu Villa, on the opposite side of Long Beach. These beautiful villas are perfect for a honeymoon or a family vacation.
Check prices on Agoda | Check prices on Booking
2 week itinerary Malaysia: in conclusion
I hope this post will help you build your itinerary for Malaysia! Malaysia is a wonderful country to visit, you'll experience different cultures, eat lots of delicious food, meet many friendly people and get to admire beautiful nature.
Feel free to ask any questions you may have by leaving a comment or send me an email!
Do you want to read more about Malaysia? Check out these posts as well:
This post was updated in August 2022.